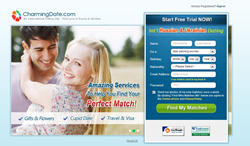 No other dating site would go as far as requiring a mandatory video from its female members for the purpose of authentication. This is really a bold step forward.
(PRWEB) May 01, 2014
According to Mark Brooks, the editor of Online Personal Watch, on 30 October 2012, one out of ten profiles listed on dating sites turns out to be fake (source: http://venturebeat.com/2012/10/30/online-dating-scam). Online dating, the uprising trend in the modern matchmaking market, brings the world of singles convenience in selecting lifetime partners, but at the same time, there is always the risk of being scammed. Brian Hay, Detective Superintendent from the Queensland Police Fraud and Cyber Crime Group, estimated that Australians had lost around a total of $8 million in overseas dating because of fraud and scam, according to new.com.au (http://goo.gl/9DmlJC) on 1 April 2014.
CharmingDate.com, the number one trusted Russian and Ukrainian dating platform assisting western men in seeking relationships and marriage, have realised the importance of ensuring a safe dating environment from the very beginning. To better prevent their male members from scam issues, CharmingDate have recently introduced a new video verification procedure to all female profiles in order to make sure each lady listed online is real. Now, all ladies are required to submit verification videos before their profiles are posted on the site. In the video, the lady will need to show her passport and a piece of paper displaying her profile ID of the site. She will also need to provide an oral statement containing her basic personal details, such as her name, date of birth and marital status.
This is a major step to further ensure the authenticity of female profiles, and to protect the rights and interests of the members of CharmingDate. So far, the site has received thousands of verification videos from ladies. This new procedure is highly supported by its male members, and gives them confidence in successfully dating beautiful and young women from Russia and Ukraine.
Apart from the video verification procedure for female members, CharmingDate adopts many other scam protection measures to ensure that their ladies are real, such as binding terms and conditions on ladies' conducts, a strict verification procedure before female profiles are posted on the site, close monitoring of female profiles, regular monitoring of correspondence between members and regular phone interviews with ladies directly. CharmingDate is continuously working on improving their Anti-Scam Measures and are firmly committed in taking precautionary and remedial measures against potential harmful activities. With the new video verification procedure, their scam protection measures have been intensely enhanced.
"No other dating site would go as far as requesting a mandatory video from their female members for the purpose of authentication. This is really a bold step forward," says one of the chief officials at CharmingDate. "Although this verification process can be time-consuming and costly at the beginning, we believe that it will pay off in the long run. More people will be willing to join our site and use our services when they feel that the environment is safe and secure. Our ultimate goal is to allow all members to enjoy their time on our site without worrying about becoming a potential victim of harmful activities."
About CharmingDate.com, the number one trusted international dating platform
CharmingDate.com is a leading international dating platform with over ten years' experience in the industry, allowing single men from around the world to find their dream ladies from Russia, Ukraine and other East European countries. They offer different kinds of services, including EMF (express mail forwarding service), Live Chat, Love Call and Cupid Date (meeting-up service), which are effective and user-friendly in building relationships with ladies. Members can benefit from free translation services during the process of communication, and useful tips from dating experts when required. In a word, the principal goal of CharmingDate is to make their members' dreams come true - finding their perfect matches in Russia and Ukraine!