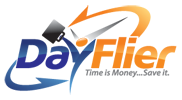 "Our network of charter planes located in the Northeastern United States provides the most value within a 500-mile radius of the New York/New Jersey area," said David Cusimano, co-founder of Day Flier.
NEW ORLEANS (PRWEB) November 17, 2015
Day Flier continues to redefine business travel. The transportation network has now expanded operations in and around the New York City area. Now boasting operations out of multiple area airports, Day Flier network offers time-conscious professionals even more flexibility in building travel itineraries that save both time and money.
Day Flier offers a revolution in business transportation by being the first service to bring new capabilities to a previously fragmented, light air charter market: an easy-to-read graphical representation of the value of time (with comparisons of air charter vs. airline vs. driving), and address-to-address entire trip logistics management. The seamless, door-to-door booking experience, all with a few clicks, is the first such service available to consumers.
"When it comes to the Northeastern United States, our area of operation is now very extensive, to say the least," said David Cusimano, co-founder of Day Flier. "Our network of charter planes located in this region provides the most value within a 500-mile radius of the New York/New Jersey area." Day Flier's network offers the fastest and most efficient method for traveling to these locales.
The Day Flier network creates the most value for successful professionals who need to attend meetings in small cities not served well by the airlines and to return home that same day. As with all of its transportation services, the travel network will not only put together an hour-by-hour itinerary for New York travelers using one of its local charter operators, but also graphically compare that itinerary to those in which an airline or automobile are used for that same business trip. Day Flier is the only service in the industry that will compare a potential charter trip to actual airline flights that will be available on the day of departure.
New York professionals who take advantage of Day Flier's local operators will be provided with a step-by-step, door-to-door itinerary outlining each leg of their prospective journey as well as an expected ETA for each and every step. Day Flier's services are designed to take care of everything for New York business travelers; this includes private light aircraft travel, transportation services, and any supplemental services in between.
The travel network's goal is to help business professionals maximize their productivity by demonstrating the large amount of potentially productive time typically wasted on airline and automobile business trips. This value is no longer only available to high-level executives and celebrities. Small business owners, consultants, attorneys, doctors, and any mid-level professionals who need to attend time-sensitive meetings can benefit tremendously by tapping this often overlooked unproductive time.
For more information on Day Flier's new operators in the New York metropolitan area or the network's operations in general, please visit dayflier.com.
Day Flier is a travel network of air and ground charter operators designed specifically for one-day business travelers who hold the value of their time in high regard. Providing great value for the professional flying from a densely populated area to a smaller city or town, Day Flier's motto is "Time is money...Save it."