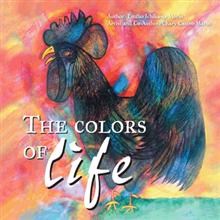 PHOENIX (PRWEB) January 24, 2014
Artist Chary Castro-Marín shows readers how an artist's life can begin in front of a piano on a Caribbean island, and lead to a grand journey that will eventually take her to a studio in Arizona. The narrative of "The Colors of Life" is in itself is akin to a series of portraits depicting crucial moments in the existence of the artist as she goes about her adventures and her pursuit of the truth that lies within art.
Castro-Marín was compelled to explore the origins of her paintings, to follow the trails of those images that form the core of her work, that are an integral part of her life's trajectory. Author Emilio Ichikawa Morín transformed these images into words, turned them into written recollections, and so the two – the art and the text - came together to create a gallery of memory, of feeling, and of emotion. The narrative follows Rosario Castro Marín and those who shared her journey - her family, friends, and the ghosts of the past who linger only in paintings. Some of those were turned into art precisely so that she did not have to remember them.
"The Colors of Life" is a candid statement, respectful and gentle. In the context of a society filled with so many canned and manipulative messages, of so much hyped performance, the reader begins to value authentic testimonials, just as organic foods are favored over prepackaged meals. This book makes such an honest offering. In their collaborative work, Ichikawa Morín and Castro-Marín speaks of what can be accomplished by bringing together business acumen and artistic sensitivity, with the freedom to exercise both. In "The Colors of Life," readers will truly experience the art of the eyes, the heart, and the mind.
For more information on this book, interested parties may log on http://www.Palibrio.com
About the Author: Emilio Ichikawa Morín
Born in Bauta, Havana, Cuba, 1962, Ichikawa has lived in the United States since 2000. He has a degree in Philosophy from the University of Havana. His books include El pensamiento agónico (The Agonizing Thought), La escritura y el límite (The writing and the limit), La heroicidad revolucionaria (The revolutionary heroism), Contra el sacrificio (Against sacrifice) and Everglades.
About the Artist: Chary Castro-Marín
Born in Cienfuegos, Cuba, Castro-Marín's passion for the arts became evident early. At sixteen she graduated as a concert pianist at the Conservatorio Amadeo Roldan in La Habana, Cuba, and continued her classical repertory studies under the direction of the late Maestro Cesar Perez Centenat. She moved with her family to New York, then after relocating to the desert, she began studying art at Arizona State University. Chary now uses paper and canvas rather than music as a medium to reach her audience.
About the Translator: Cristina de la Torre
Cristina de la Torre has received translation awards from the Spanish Ministry of Culture, the Generalitat de Catalunya, NEH, the Howard Foundation and the Banff Center for the Arts. She lives in Atlanta and is now Senior Lecturer Emeritus in Spanish at Emory University where she created courses in literary translation.
The colors of life * by Chary Castro-Marín
Publication Date: November 20, 2013
Picture Book; $ 40.95; 116 pages; 978-1-46334-117-6
EBook; $3.99; 978-1-46337-365-8
To request a complimentary paperback review copy, contact the publisher at (877)-407-5847 / (812)-674 -9757. To purchase copies of the book for resale, please fax Palibrio al (812)-355-1576 or call (812)-674 -9757.
For more information, contact Palibrio at (877)-407-5847 or on the web at http://www.Palibrio.com