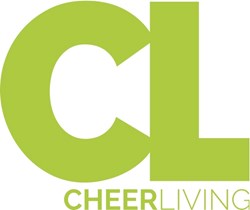 The CheerLiving™ show is a great example of how cheerleaders live and breathe the cheerleading life.
San Diego, CA (PRWEB) February 19, 2014
The CheerLiving™ show, a web series on Cheer Channel's YouTube page has more than 250,000 views. The show, which first premiered in September 2013, has released nine episodes, with an average of more than 25,000 views per episode. Episodes range in topics, from cheer fashion to fundraising tips to proving negative cheer myths wrong. Thus far, the cheer fashion episode is the most popular, with just under 50,000 views.
"I think people enjoy watching our show because the topics are always so different, but still relevant to today's issues. We keep the length short and sweet so even the busiest of cheerleaders have time to watch and learn something new," said CheerLiving™ show host, Jessica Rzeszut.
Popular cheerleading apparel company Chassé is the premier sponsor of the show and magazine by the same name, along with other companies including Omni Cheer, Campus Teamwear, and Glitterbug Cosmetics. CheerLiving™ released the first issue of its magazine in July 2013 and its second in October. The third issue is forthcoming in March. The magazine offers free digital subscriptions on its website.
"At Chassé, we are firm believers that cheerleading is a lifestyle. Cheer Channel shares our passion for creating innovative features and original programming that educates and entertains as a way to share as much about the cheer industry as we can," said Melissa Darcey, Chassé marketing specialist. "The CheerLiving™ show is a great example of how cheerleaders live and breathe the cheerleading life."
Chassé and Cheer Channel have had a long-standing relationship and have joined forces over the past few years to develop one-of-a-kind programs. Since 2012, Chassé has been a sponsor of Cheer Channel's popular web series, "Secret Diary of an American Cheerleader." Chassé also provides scholarships for Cheer Channel's annual roster of elite, high profile and respected All Star cheerleaders, collectively recognized as the " Superstars of All-Stars." In 2013, Maddie Gardner, the fan favorite cheerleader and host of Cheer Channel's "Cheer Mashup," became the face of Chassé and was featured on the cover of the inaugural CheerLiving™ magazine issue.
To find out more about CheerLiving™ or the vlog, visit the CheerLiving™ website. All vlog episodes can be viewed on Cheer Channel's YouTube page, as well as on Cheer Channel, CheerLiving™, and Chassé and social media pages.
About CheerLiving™ Magazine
CheerLiving™ Magazine, a division of Cheerleading Blog and sponsored by cheerleading company Chassé, is a source of cheerleading news, tips, and advice for cheerleaders, coaches, parents, industry leaders, and the cheerleading community.
About Cheerleading Blog:
Cheerleading Blog is the official blog supported by industry leaders Omni Cheer®, Campus Teamwear®, Chassé®, Fun"d"2Raise®, Warmups.com and Glitterbug® Cosmetics.
About Chassé®:
Chassé® is a leader and innovator in the world of cheerleading apparel and accessories, providing affordable and high-performance in-stock cheerleading apparel to cheerleaders of all ages.
About Cheer Channel Inc.:
CCI, a privately held corporation with offices in Texas and California, serves as the premier entertainment and news network for the millions of athletes and fans of the spirit industry. An interactive, multi-digital online and broadcast destination, CCI provides the latest emerging media technology engaging tweens and teens across the most popular social media platforms.