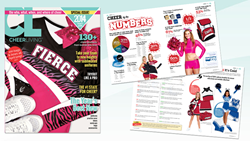 We're really excited to launch this giveaway. It's so easy to enter and the prizes are really amazing.
San Diego, CA (PRWEB) March 31, 2014
In celebration of the new issue of CheerLiving™, cheerleading apparel brand Chassé® is holding a bags and bows giveaway on its Facebook page. The Chassé OBSESSories 30-Day Giveaway is featured in the spring issue of CheerLiving magazine, which is a special edition Buyer's Guide.
"We're so happy to be working with Chassé. As this is our big Buyer's Guide edition, dedicated to shopping and cheer fashion, the OBSESSories giveaway is the icing on this wonderful cake," said Melissa Darcey, CheerLiving® managing editor.
For each day in April, Chassé is giving away various items, ranging from sequin bags to glitter bows—all of which are cheer bags, bows, and mini bow keychains from the new Chassé Spring 2014 collection. Fans of the Chassé Facebook page can easily enter by filling out a short form. On the last day, April 30th, Chassé is providing an ultimate grand prize, which includes several bows and mini bow keychains, as well as The Convertible bag, which is both a duffle bag and backpack.
"We're really excited to launch this giveaway. It's so easy to enter and the prizes are really amazing," said Chassé marketing manager, Jessica Rzeszut.
The giveaway officially begins on April 1st and ends on April 30th. On each day, fans may enter for that day's prize. Only one entry per day is accepted and contestants must be US residents.
To see the full OBSESSories giveaway calendar, view the new spring issue of CheerLiving® magazine. CheerLiving® offers free digital subscriptions and instant access to the current and past issues. To enter the contest or see more details, visit the Chassé Facebook page.
ABOUT CHASSÉ:
Chassé® is a leader and innovator in the world of cheerleading, committed to providing affordable and high-performance apparel and accessories to cheerleaders of all ages.
ABOUT CHEERLIVING™ MAGAZINE:
CheerLiving™ Magazine, a division of Cheerleading Blog and sponsored by cheerleading company Chassé®, is a source of cheerleading news, tips, and advice for cheerleaders, coaches, parents, industry leaders, and the cheerleading community.