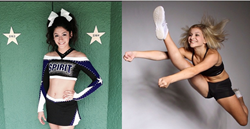 Having them participate in the Superstars of All-Stars program is a great opportunity to exemplify the hard work that it takes to be an All-Star
San Diego, CA (PRWEB) August 19, 2014
Chassé is continuing its partnership with Cheer Channel to help enhance the Superstars of All-Stars program, and provide cheerleaders like Dee and Hope with additional opportunities for their future, including a scholarship award. 2014 marks the third year for Cheer Channel's Superstars of All-Stars program. Temples and Bravo are two of the Superstars chosen to represent the cream of the crop in the spirit industry, and serve as role models for aspiring and current cheerleaders all over the world.
Each year, Cheer Channel Inc. handpicks its Superstars of All-Stars based on their ability to meet a very high set of standards both as an athlete and a person. Superstars must demonstrate talent, commitment, dedication, physical skill, leadership, fan support, personality, community involvement, academic achievements, social skills, and respect of teammates and coaches.
"It is with great pride that we select these young athletes who best represent the All-Star cheerleading industry as role models and athletes, and emphasize the meaning of 'spirit' in our industry," said Cindy Villarreal, Cheer Channel CEO.
Temples is a flyer for the Stingray All-Stars Crystal Level 5. She started cheering on a minis team when she was four years old and spent most of her cheer career with the Atlanta Jayhawks and A-Towne All-Stars. Temples attended Worlds in 2012 and 2013, was one of Inside Cheerleading's Most Valuable Cheer Stars in 2010, was nominated to IC's Junior All American Team in 2012, and is the spokesperson for Cheer Channel Inc.'s Anti-Bullying Campaign.
She is also actively involved in her community, hosting charity events, and is a member of numerous academic honors and clubs including Dean's List, Mu Alpha Theta, and Student Council President and Treasurer.
Hope began her athletic career as a gymnast and began cheering by the age of four. She mastered a running full by the age of five and later became a member of the USA Olympic Development team. She is a previous member of Waco Cheer Unlimited and Austin Cheer Factory, where she was one of the youngest members of their 2008 Worlds Silver Medalist team. Bravo has won many individual national titles during her career and is an NCA Champion, Grand Champion, and Majors Champion.
"Dee and Hope are exciting to watch and having them participate in the Superstars of All-Stars program is a great opportunity to exemplify the hard work that it takes to be an All-Star," said Brita Bolane, Director of Brand Development for Chassé. "We're proud to support their futures, and to partner with Cheer Channel to spread the word about Chassé to current and aspiring cheerleaders," added Bolane.
About Chassé:
Chassé® is a leader and innovator in the world of cheerleading apparel and accessories, providing affordable and high-performance in-stock cheerleading apparel to cheerleaders of all ages.
About Cheer Channel:
Cheer Channel, Inc. is a 24-hour online television network dedicated to the athletes and fans of the spirit industry. A premier destination for live and taped videos on industry news, competitions, events, and more, Cheer Channel also produces original scripted and unscripted web series.