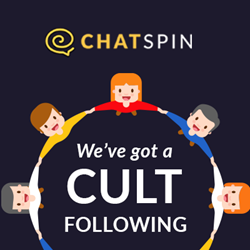 At this time, we have one of the most advanced and sophisticated matching algorithms of any video chat application
LOS ANGELES (PRWEB) January 22, 2019
Live video streaming application, Chatspin, has enjoyed unprecedented success due to the implementation of unique algorithms which match strangers based on a broad variety of criteria. The algorithms provide users of the platform with the opportunity to meet people locally, from a specific country, or worldwide, eliminating the distance restrictions on similar apps which only allow users to find strangers within a defined radius.
Since launching in 2015, Chatspin has expanded from a basic, desktop-only random chat platform to a multi-functional, multi-device live video streaming application. While the interface of the application has remained simple and user-friendly, the matching software has undergone significant upgrades, providing users with better and more specific matches based on their preferences.
"Our programming team tirelessly works on improving and perfecting our matching algorithms," said Chatspin Press Manager, Shay Robin, "At this time, we have one of the most advanced and sophisticated matching algorithms of any video chat application."
Currently, users can choose from a variety of ways to connect with strangers on Chatspin. After choosing their gender, users are instantly connected to the live video streaming platform where they use filters to connect with people locally, internationally, and worldwide. Beyond geo-filters, users can also choose the gender of the strangers they connect with and eliminate connections with people who do not have their video stream turned on.
The ability to meet strangers from around the world has created something of a cult following with numerous stories of friendships, love, and bonds emerging from regular users of Chatspin. One couple from opposite corners of the world even wrote to inform Chatspin how the application had played a significant role in how they met and now they are married. As Chatspin continues to develop its algorithms, it will make the world a smaller place by creating meaningful connections between strangers.
"More and more people are writing to Chatspin to inform us of success stories in forming friendships and even finding love on our platform," said Chatspin Press Manager, Shay Robin, "We are delighted to hear about the first Chatspin marriage and hope it will not be the last by any means!"
About Chatspin
Chatspin is a random video chat app which is available on Android and web browsers with an iTunes release planned soon. The chat platform allows users to connect with strangers from around the world using a webcam and an internet connection. Users can enjoy features including cam filters and effects, gender filters, country filters, an intuitive and straightforward interface, and control over audio and visual settings. The service simultaneously connects tens of thousands of people randomly every day.