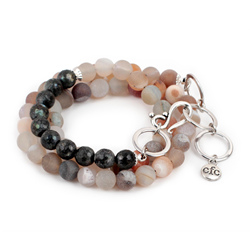 It was an honor to design a piece of jewelry that conveys the magnitude of such a simple, life-saving tool for health workers.
Verona, New Jersey (PRWEB) November 03, 2015
On November 4th, Chavez for Charity (CfC) proudly introduces the Counting Beads Wrap Bracelet at the International Rescue Committee (IRC)'s 2015 Freedom Award Dinner at the Waldorf Astoria Hotel, New York City. Designed in consultation with the IRC, the Counting Beads Wrap Bracelet will be presented as a gift to guests and honorees to raise awareness for pneumonia -- the leading infectious cause of death in children under five worldwide.
The Story Behind the Counting Beads:
The IRC supports primary health care services for 14.6 million people in 21 countries. In remote communities, IRC-trained health workers use counting beads to diagnose children with pneumonia. As a timer counts 60 seconds, the health worker counts 1 bead per breath. If more than 49 beads are counted, the child is breathing too fast -- a red flag for pneumonia. Chavez for Charity celebrates the IRC's use of tools like these that help to provide children with the lifesaving treatments they need.
Chavez for Charity's Humanity Collection:
CfC will launch the Counting Beads piece as part of its HUMANITY jewelry collection. Like those used in the field, the first 49 beads on the strand are neutral in color, followed by a series of colored "alert" beads. It is then finished with a gorgeous chain and adjustable hook clasp. Hand crafted with fine materials, each Counting Beads piece is individually exquisite and beautiful to wear as either a wrap bracelet or a necklace. Chavez for Charity donates $1 to the IRC for every item sold.
Chavez for Charity Co-Founder Julie Chavez says, "We were so thrilled to collaborate with the IRC for this special event and this very important campaign. It was an honor to design a piece of jewelry that conveys the magnitude of such a simple, life-saving tool for health workers.
About Chavez for Charity
Founded in 2013, Chavez for Charity is a fashion accessory brand best known for its fun and colorful beaded bracelets. Every color represents a charitable cause to which CfC donates 25% of its gross profits. CfC products are available for purchase at over 4,000 retail locations in the U.S. and Canada, as well as online at chavezforcharity.com.
About the IRC
The International Rescue Committee helps people whose lives and livelihoods are shattered by conflict and disaster to survive, recover, and gain control of their future. IRC teams provide health care, infrastructure, learning and economic support to people in 40 countries, with special programs designed for women and children. Every year, the IRC resettles thousands of refugees in 26 U.S. cities. Learn more at Rescue.org and follow the IRC on Twitter & Facebook.