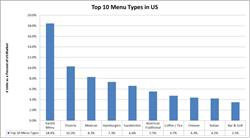 The top five menu types in number of units are Varied Menu, Pizzeria, Mexican, Hamburgers, and Sandwiches.
Chicago, IL (PRWEB) October 30, 2014
CHD Expert, the Chicago-based foodservice data solution provider, has released the latest reports on Menu Types in the Unites States. The top five menu types in number of units are Varied Menu, Pizzeria, Mexican, Hamburgers, and Sandwiches. All data in this release is per CHD Expert's database as of October 2014.
Restaurants with the menu type categorized as "Varied Menu" make up 18% of the US restaurant landscape in relation to number of units. Varied Menu type restaurants often feature a broad base of menu items pulled from a variety of cuisines that have been "Americanized", as well as more traditional American fare, such as hamburgers and sandwiches. Rounding out the rest of the top tier of the landscape are the following menu types: Pizzeria (10%), Mexican (8%), Hamburgers (7%), and Sandwiches (6%). See Figure 1.
Although Varied and Mexican Menu types have a high percentage in the Full Service category they have a lower percent of chains in their profile and the majority earn less than $1 million a year in annual sales. In terms of independent restaurants, the Varied Menu type ranks highest with over 110,000 total units, or 91% of its menu category. Mexican restaurants are ranked number two at 74% Independent. 45% of the total Mexican restaurants in the United States earn $500K - $1M in annual sales. Contrary to the Varied and Mexican Menu types, Hamburger joints earn between $1 to $2.5 million a year in annual sales and are 86% chain operations, containing some of the big Chain Giants in the industry. Figure 2 shows the profile of the top 5 menu types in the US.
To review all five of the profiles on the top 5 menu types, please download our infographic.
CHD Expert's data establishes that the more years a restaurant stays open for business, the higher its annual sales tend to be. 67% of the foodservice establishments studied have been in business for over 5 years. Restaurants that have operated for over 5 years are most likely to reach annual sales of over $1 million.
The odds are against restaurants as a business, with such a low survival rate and their ability to increase sales in such a competitive market. This low survival rate makes it difficult to get the revenues needed to pay the increasing food, utility, and labor costs.
But there are some winners in terms of "survival" when it comes to lasting over 5 years in business. Hamburger and Pretzel menu offerings are traditional favorites with a high percentage of their category in business over 5 years. But the leaders are in Irish and English menus as well as the Southwestern and Tex-Mex offerings.
"The ability to comprehensively examine annual sales per menu type will help foodservice professionals project future sales for their own organization, as well as effectively visualize the market as a whole," said Brad Bloom, Director of Sales at CHD Expert North America. "CHD Expert is proud to offer this important and actionable data to industry professionals to help them support their businesses and make more accurate predictions for growth."
For more information about Menu Types and Annual Sales, please contact Brad Bloom: brad@chd-expert.com.
About CHD North America
CHD Expert is the worldwide leader in collecting, managing, and analyzing data for the Away-from-Home Global Foodservice Market. For almost 20 years, CHD Expert has been dedicated to support Foodservice channel members in providing a global vision and an in-depth understanding of the industry (in Europe, The America's, and Asia Pacific).
Our objective is to support foodservice suppliers with market solutions for their insights, category management, with sales and marketing initiatives. CHD Expert provides the most comprehensive and accurate foodservice data globally for more than 5 million operators in 50 countries. For additional information, please visit http://www.chd-expert.com or call 1-888-243-0154.