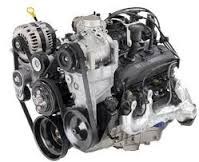 The cheap engines now online still include warranties and mileage validation.
Birmingham, Alabama (PRWEB) August 11, 2013
Chevrolet vehicles include luxury editions, pickup trucks and sport utility vehicles marketed globally to consumers. Replacement engines for the various brands in the Chevy lineup are now offered for less than standard prices at the GotEngines.com company. This company is now offering cheap Chevy engines in used condition at http://www.gotengines.com/blog/used-engine-engines/cheap-engines.
"This new price drop affects only the Chevy inventory of Vortec, Generation IV and other GM builds," said a specialist for the Got Engines company. Price lowering is a strategy that some companies use to become more competitive with top sellers online.
The cheaper GM based engine prices that are announced are in addition to the already discounted price from the suggested retail price set by distributors. The additional savings for the Chevrolet engines series are created to assist more engine installers with completing an engine swap without the traditionally higher price.
"The cheap engines now online still include warranties and mileage validation," the specialist confirmed. Consumers who are weary about purchasing a previously owned engine in fear of possible breakdown immediately benefit from the limited warranties attached with each Got Engines sale.
Updates to the existing three-year policy that was set in motion this year now make sure that most parts are covered from breakdown. Parts that are covered under the original manufacturer warranty can be honored by automakers if not already included in the limited policy changes.
The discounted Chevy pricing and no cost freight bonuses offered to buyers are two methods in use by the GotEngines.com website to increase its summer to fall sales volume compared with the same time period last year.
About GotEngines.com
The GotEngines.com company is an experienced retailer of previously owned auto engines from Ford, Chevy, Dodge, GMC, Jeep and other automakers. This company builds its inventory figures on a daily basis to ensure one of the largest resources can be available for engine buyers to access on the Internet. The GotEngines.com company price levels are monitored frequently for success or failure in the current secondary marketplace. As an alternative to auction sellers, this company offers full limited warranty and no freight charges with all of its shipments in the U.S.