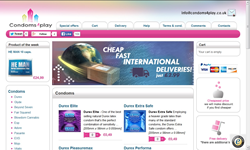 We provide delivery through Royal Mail 48H, 24H, Tracked as well as Special Delivery.
Kent, UK (PRWEB) December 10, 2014
Condoms4Play is now offering multiple payment methods such as PayPal and PO through secure payment gateway. The leading name in the adult recreational sex toys and condom industry, they offer branded condoms and other products sourced directly from the manufacturers.
If clients choose Condoms4Play, they can get access to leading condom brands such as Durex, Glyde, Beyond Seven, Fair Squared, Blowdom Cannabis, Adore, Pasante, EXS, Mojo, Vitalis, Skins, Mates, Lifestyles, Crown, Sico, ON, Condomi, More Amore, Billy Boy, Pjur, ONE, MY.SIZE and London. This well known online store offers Condoms, Lubes, Delay Sprays and Gels as well as Vibrators, Vibrating Rings, Love Spices and Female condoms. Condoms4Play also offers Glowing condoms, Fetish, Oral Dams and Massagers.
A company executive in a recent interview said, "We deliver our products through Royal Mail 48H, 24H, Tracked as well as Special Delivery. The first option is completely charge-less and money charged for the remaining options is nominal. We are the perfect choice for discerning customers who value confidentiality and discreet transactions online rather than standing at a crowded store and feeling embarrassed about purchasing a condom."
The executive goes on to say, "Let us know if you can find a cheaper deal elsewhere and we will give you a further discount. We already sell products at extremely low rates and the added advantage is the confidentiality factor. After all, you do not want to meet your aunt at the same pharmacy from where you are purchasing your condoms. Shopping online can save you a lot of trouble and embarrassment, so choose us and you will definitely not regret it."
The condoms including the extra safe condoms sold by this well known e-commerce store are 100% genuine and sourced from UK, US and German manufacturers. Condoms4Play offers only CE mark products. Clients need not worry about confidentiality as Condoms4Play provides services which are best-in-class. Clients only trust this e-commerce store when it comes to buying cheap condoms online in UK.
About Condoms4Play:
Condoms4Play is a popular store to buy sex toys and condoms. Clients can purchase items of adult recreational use from here with ease and efficacy, not to mention at discounted rates. The advantage of the online purchase is not just the affordability but also the confidentiality. No one will ever know that the clients have purchased these items from this reputable store. Client data is stored and protected with great care at Condoms4Play. This online store also provides bona fide products which are stamped for authenticity. Those who want to buy condoms online can visit this store.
Contact Details:
124 Moorside road
Bromley
Kent
BR1 5ER
Contact number: 07450970551
Website: http://www.condoms4play.co.uk/
# # #