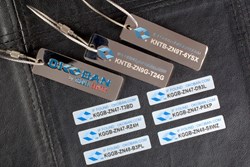 The peace of mind afforded by this product is invaluable. For such a small investment, you can greatly increase your odds of having your lost item returned quickly.
Atlanta, GA (PRWEB) July 16, 2013
When it comes to booking travel plans, a little effort can produce a lot of savings. Mystufflostandfound.com has prepared the following guide to finding the cheapest flights.
BE FLEXIBLE
1-Early morning flights are often the cheapest available. The next cheapest flight times tend to be during or after lunch and at the dinner hour.
2-When beginning an Online search, don't specify departure times, this will reveal the time of day that really is the cheapest to fly.
3-Departing on Wednesday, Tuesday then Saturday (in that order) typically result in the best fares.
4-Off season flights, avoiding Christmas, New Year's Eve, Thanksgiving, or Fourth of July are significantly less expensive.
5-Flying into nearby secondary airports on Budget Carriers can often save more than the cost of the rental car needed to get to the final destination.
6-One-stop flights and One-way tickets can be a bargain.
WHERE TO SEARCH
1-Aggregator websites like Kayak.com, CheapOair.com, expedia.com and travelocity.com can efficiently reveal low cost fares.
2-Check smaller, low cost airlines individually, many are not included on aggregator search sites.
3-Use free alerts sites like AirfareWatchdog.com. to get notified when prices fall.
4-Clear computer cache and cookies between airline searches, otherwise old prices sometimes display instead of updated prices.
5-Check the classified section of local newspapers. Airlines sometimes run ads for cheap flights out of local airports on short notice.
6-Airlines have been experimenting with blasting fares via social media. Check Airline Facebook and Twitter accounts.
WHEN TO SEARCH
1-Studies reveal that in general the "magic window" tends to be between 3 and 6 weeks before departure. Earlier than that there is not much movement in prices and later fares tend to go up not down.
2-Many Airlines release bargain tickets first thing in the morning, often on Tuesday. They may be snatched up by later in the day so the "early bird" rule applies here.
3-Fares tend to be highest on the weekend.
4-Keep checking fares after you book. According to Department of Transportation regulations, tickets can be canceled within 24 hours of purchase without paying a fee or penalty. If fares drop the day after purchase, cancel and buy at the new lower fare.
USE PERKS
1-Airline rewards programs and credit cards are a great way to get free flights, upgrades, checked bags and priority boarding.
2-For students, there are many discounts available. Check out statravel.com for deals on student tickets.
3-Most airlines have special offers for companies such as Amazon, Apple, Best Buy, and Target that earn miles with each purchase.
4-Use a credit card that offers bonus points redeemable for travel expenses. Use the card whenever practical to rack up points.
PROTECT VALUABLES WHILE TRAVELING
Every second of every day airport baggage is mishandled. Over 50,000 of these bags are destroyed each month because finding the owner is too difficult. Include lost phones, tablets, passports, keys, cameras, jewelry and other valuables and the losses are staggering.
Okoban® was founded in response to a travel industry need for a secure, private worldwide lost and found service for returning lost valuables to their owner quickly and at no cost. Online sales website: mystufflostandfound.com
"The peace of mind afforded by this product is invaluable. For such a small investment, you can greatly increase your odds of having your lost item returned quickly," says Allen Davidson, partner with Okoban and Travel Sentry. "The finder service is free for life, anywhere in the world."
Mystufflostandfound.com, founded in 2012, is the online gateway to Okoban's tracking service for valuables and free global lost and found service for life. To find out how technology can now protect your valuables, go to http://www.mystufflostandfound.com