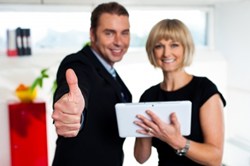 We've moved to a results model that guarantees the expected search engine placement or our clients do not pay.
Battle Creek, MI (PRWEB) August 13, 2013
Search engines like Google have changed the ways that businesses are competing online. The change in ranking metrics has increased and lowered some search results for companies online. The http://ezranker.com company is now offering cheap search engine optimization campaigns for companies of all sizes online.
This company has developed its new system for ranking websites without upfront payments from business owners.
The quality of results that are now achieved has helped this agency to take away the charges that most companies still require before a campaign is started.
"We've moved to a results model that guarantees the expected search engine placement or our clients do not pay," said a marketing expert from the EZ Ranker company.
The new cheaper packages that are provided could be free of charge if a company does not achieve its expected rankings.
The costs to hire a third party marketing company are easily absorbed by most large corporations that have a current marketing budget to reach the top positions in search engines online.
For many small business owners, the costs of e-commerce and other Internet related business expenses can often trim or eliminate the marketing budget.
"We understand small business expenses and now work without payment until companies start to make money," the expert added. This new elimination of monthly service charges for ranking websites is a new concept being explored by this company this year.
Companies who are interested in receiving a no charge evaluation of a current website can signup on the EZ Ranker website. Company specialists immediately review the information submitted and contact company owners to put together a no charge campaign for SEO services. A plan for results can be created upon approval of company management.
About EZRanker.com
The EZRanker.com company has structured its search engine marketing programs to promote small and large businesses to the top of search platforms online. This company is comprised of a team of veterans in the marketing industry who are responsible for managing over 300 campaigns online. The EZRanker.com website now features an easy sign-up form that provides a no charge review of any website to create a customized campaign for SEO results. The result based SEO services that are provided eliminate any fees payable by clients if results cannot be obtained.