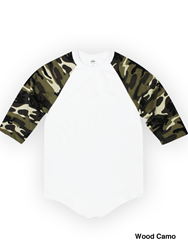 Los Angeles, CA (PRWEB) August 21, 2013
Pro 5 Apparel, a fashion designer for men and children, announces two new additions to its clothing lines. Visitors to the website will soon find be able to purchase shirts and more with a custom printing option. The store is offers two new camouflage options. Both of these new developments are part of Pro 5 Apparel's continued mission to providing consumers around the world with the perfect combination of fashion and durability without a high price tag.
Custom printing allows Pro 5 Apparel to help consumers individualize their clothing. Almost all of Pro 5's cheap Tshirts will have custom printing as an option. The printed work can be a design, such as a symbol or logo, or even a photograph. Pro 5 enthusiasts love the way their clothes make them look. With these two options available, custom printing ensures that every article bought is a unique one.
Camouflage Shirts Stay Stylish and Comfortable in Any Activity
By adding two new camouflage items to its clothing line, Pro 5 Apparel has given customers even more ways to enjoy their active lifestyles. All camo clothes are available in sizes ranging from small to XXX-large, and are affordably priced under $10.
Raglan and tank top shirts are available in numerous patterns. Raglan shirts feature a white body and choice of either the traditional wood camo or urban grey camo pattern on the sleeves.
Tank tops feature camouflage on the entire shirt. Wood and urban camo options are available as well as the sandy desert camo pattern. Pro 5 shirts are a great choice for relaxing, playing sports, or a night out. Tank tops can also easily double as undershirts.
All clothing is available through the Pro 5 Apparel online store and can be sent domestically and internationally. Purchases of $40 or more are eligible for free shipping to anywhere in the United States. Shipping options include standard priority mail from the United States Postal Service as well as UPS Ground and 3-Day Select.
Pro 5 Apparel is headquartered in downtown Los Angeles, an area famous for the latest in innovative fashion. The company focuses on creating hip, modern designs for comfortable, cheap Tshirts, undershirts and more made with the highest quality materials and craftsmanship. Please visit the online store or Contact Pro 5 Apparel for more information.