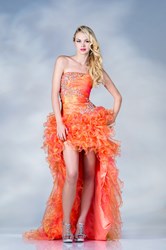 Los Angeles, California (PRWEB) December 09, 2013
Abby Dresses, one of the top online retailers of women's fashion, unveils the top things that women should do whilst shopping for dresses to look younger than their real age.
There is no denying that as women age, they tend to be more conservative in their dressing. Not only do mature women tend to pick out designer dresses in solid colors, they also tend to go for modest dresses and matching cover ups. Although it is important to dress according to one's age group, it does not mean that one should look older than necessary. With the right help and proper fashion advice, looking youthful and happy is not such a difficult task to accomplish. With the right cocktail dress, it is possible to look 10 years younger.
The stylists at Abby Dresses promise to revolutionize the way their clients look and feel. All that has to be done is to do is follow these simple yet very effective rules when shopping for a party dresses, formal dresses, evening gowns and or a little black dress on Abby Dresses.
1. Opt for Bold Colors and Prints
Instead of sticking to conventional designer dresses in gray, white, black and beige, opt for something that comes in a bright color. Red, green, blue and orange are show stopping colors that will be bound to attract all the right attention to the wearer. If one is too shy to ditch the safety of neutral colors on designer dresses, opt for a different type of material such as metallic or sequins. Floral and animal prints are great too. Just ensure that the color scheme and design are in tune with the latest trends. Another trick to remember is that less is more. When going for an animal or floral print cocktail dress, ensure that only one item of clothing is in that print.
2. Forgo the Cover Up
A trick to look significantly younger is to ditch the cover up. Showing some skin may be a bold move, but it will shed years off one's look. Opt for elegant necklines on party dresses that show off the collar bone. If possible, go for something sleeveless or strapless. If jiggly arms are a problem, choose a short cropped jacket or pretty shawl to go with the party dress. Another option is to pick a modest dress with long sleeves in a bold color or print.
3. Buy Fitting Dresses
Nothing screams of old age more than baggy and drab dresses that do not fit well. No matter one's size or age, accentuating one's silhouette is important when trying to look younger. Whether one is shopping for a bridesmaid dress, cocktail dress, party dress, cheap dress or designer dress, stay away from dresses that are shapeless. Instead, opt for dresses that are fitting and that boast ruched material. Ruched material nips and tucks in unwanted bits and gives the overall illusion of a svelte figure.
It is a fact that mature women will not be able to find cheap dresses at Ross Dress for Less, Forever 21, Dress Barn, or any of these chain stores. Gone are the ways of black prom dresses and pink prom dresses that look like bridesmaid dresses. As a woman ages and evolves, so do her tastes. Hence, shopping at online retailers like Abby Dresses is the perfect solution as not only does the site offer a myriad of stunning yet modest dresses, it also offers cheap dresses that can compete with the designer dresses sold in department stores.
For more information on the latest collection of evening dresses, party dresses, cocktail dresses, Christmas dresses and other fashionable cheap dresses, contact Abby Dresses at abbydresses(dot)com or call 1-877-913-6539