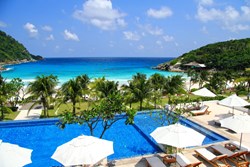 Business class travel gives the traveler ample of leg room to rest as well as space to work.
Los Angeles, Ca (PRWEB) October 15, 2013
IFlyFirstClass offers cheap Business Class flight tickets to Asia, Europe and many other destinations. The company also specializes in offering customers with last minute Business Class tickets. Customers have saved thousands on Business Class flight tickets provided by the company. It has consistently offered clients with special fares on Business and First Class tickets. Flying to choice destinations with cheap first class fares and the best of Business Class travel deals is not an impossible task anymore.
Special savings are offered by the company mostly on three travel options. Travelers can avail discounts on Last Minute Fares on all major airlines as well as Discounted Business Class and First Class Tickets to Asia. Customers can also travel cheap business class to Europe. IFlyFirstClass works hand-in-hand with airline wholesalers and travel companies to offer global travelers the very best business class fares on the world's finest carriers. Irrespective of whether tourists look for last minute flights or complicated itineraries to several cities in the world, the specialists at the company negotiate the best business class discounts available for its customers. Travel accommodations and transportation are two other avenues of travel which are also taken care of by the company professionals. They maintain long-standing relationships with their travel partners, which is why accessing deals on regular basis becomes an easy thing. These deals cannot be ordinarily sought from any other travel agency, wherein the exclusivity of the deals are designed for the company's customers. In addition to offering discounts, the company is known for providing stellar customer service as well as a hassle-free travel experience to all its clients.
Lengthy international flights can be tiresome at times. It makes sense to travel in the luxury of business class. Business class travel gives the traveler ample of leg room to rest as well as space to work. A long good nap on a lengthy flight can certainly make the trip more enjoyable and productive. The seats offered in Business Class are wider and luxurious than offered in economy. Every seat in it offers private video monitors, extra work space and other professional amenities as desired by the business travelers. Major airlines companies have business class seats reclined to a full-flat position. This enables travelers to sleep for long duration especially on overnight flights. The service availed by Business class travelers is on personalized basis, wherein special meals are created by world-renowned chefs to meet the tastes and preferences of the passengers. A business class travel can also provide clients access to exclusive airport lounges apart from other custom services.
Julia Graft, PR Manager
http://www.iflyfirstclass.com