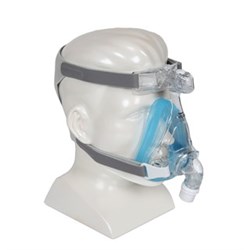 Asheville, NC (PRWEB) September 13, 2013
CheapCPAPSupplies.com, an online sleep apnea supply company based in Asheville, North Carolina, is expanding its lineup again. The cutting edge company continues to innovate and create new ways to provide for its customers.
Recently, the company added four new CPAP masks to its inventory to meet customer needs. The Respironics Amara Gel, Full-Face Mask offers soft, pliant comfort in a form fitting mask. The gel molds to fit any face regardless of bone structure, and the quiet-operation, micro-exhalation port ensures that bed partners go undisturbed by exhalation sounds. Besides the comfortable, face features, the mask also fits the head well with an almost undetectable head-gear setup. Coming in small, medium and large sizes, the Amara Gel, Full Face Mask is sure to please even the most particular users.
Another new addition to the CheapCPAPSupplies.com is their Resmed Swift FX Nano Nasal Mask. Like the Amara Gel, the Nano offers superior fit and light weight features that give it its Nano name. Small, comfortable and secure, the mask is bound to become a favorite for many CPAP users. Its 360 degree ball-swivel allows for maximum movement and flexibility for sleepers. And, having no forehead pads means no unsightly marks the next morning. It also allows for easy television watching since the mask has no visual obstructions. The mask comes available in standard and wide sizes to fit most heads. And it comes in sizes to fit both women and men! The women's version is known as the Nano for Her.
A final addition is the Circadiance SleepWeaver Anew, a soft, cloth, full-face mask and headgear combination that allows for easy fit in a lightweight mask. The cloth innovation eliminates moisture buildup that can form in plastic masks, and the tight seal is achieved through inflation of the mask rather than tightly pulling straps to assure a seal. The mask is comfortable with a clear line of vision, easy cleaning, a soft feel, and 90 degree swivel elbow connection.
CheapCPAPSupplies.com has even sweetened the deal by continuing their mask sale and free shipping! For CPAP users, it may be time to consider trying CheapCPAPSupplies.com for excellent customer service, innovative supplies and competitive prices—some of the best in the business!