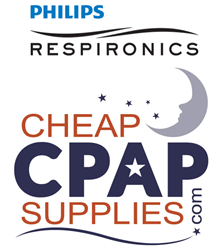 In some cases, customers can expect to save as much as $500.00!
Asheville, NC (PRWEB) October 29, 2013
CheapCPAPSupplies, an online retailer for deeply discounted CPAP and BIPAP supplies, announces that it is participating in the manufacturer Respironics sale to offer its customers even larger savings. CheapCPAPSupplies carries a huge assortment of CPAP needs for patients seeking treatment with sleep apnea and other diagnosed sleep disorders. Respironics, an industry leader in these supplies, has announced a sale that allows CheapCPAPSupplies to pass the savings on to its customers.
The sale runs through December 31, 2013 and includes discounts on select CPAP machines, tubing, masks and other CPAP needs. Price reductions include 15% off of specified CPAP devices and device accessories, 10% off specified Philips Respironics masks and mask accessories, and 10% off specified portable oxygen concentrators. In some cases, customers can expect to save as much as $500.00! Since this sale is dictated by the manufacturer, CheapCPAPSupplies urges interested customers to act now before the sale ends.
Respironics carries a wide variety of supplies for CPAP users including the Respironics REMstarPlus C-flex with SD card, the Plus C-flex with a humidifier and heating tube, and the SE CPAP Machine with a humidifier. Besides the machines themselves, customers have access to a wide choice when it comes to CPAP tubing and oxygen concentrators.
CheapCPAPSupplies is a full service online company that prides itself on customer service—and not just in product sales. The company offers a 30 day guarantee on its CPAP masks, help with filing through insurance, advice of use of the products, and an up-to-date BLOG/educational link that helps readers answer questions about the company products and troubleshoot both the purchase and use of their products. You can shop the sale now at http://www.cheapcpapsupplies.com or call them at (866) 298-6482 for more information.