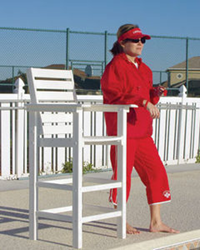 A perfect basic economic lifeguard chair that does the job
Los Angeles, CA (PRWEB) February 23, 2015
These new low price lifeguard chairs are perfect for the manager who wants suburb quality at a cost effective price. A lifeguard's comfort is one of the most important aspects in preparing a lifeguard station. When a lifeguard is watching the public, they should be propped up enough to see over people. Different beach and pool sizes require different heights of chairs to be most effective. Now Lifeguard Master, a popular lifeguard supply company, offers two lifeguard chairs at a new low price.
Especially useful for pools or beaches who are purchasing multiple chairs, these two popular chairs are offered at a new discounted rate. Both the Lifeguard Basic Chair and the Lifeguard Folding Chair are now available for over a $30 discounted rate. Made with extremely high quality materials, these two lifeguard chairs are an incredible deal, especially for those buying multiple chairs for different pool or beach viewing points.
The Lifeguard Basic Chair is created from incredibly durable material and is perfect for swimming areas with less than 10 people swimming at one time. Whether a hotel pool, community pool, small beach, or water park; this chair is maintenance free and will never peel, chip rust, or need painting. With no straps to replace, this Lifeguard Basic Chair is easy to maintain and has a sturdy construction that will withstand for decades. The tough and non-absorbing surface makes this Lifeguard Basic Chair easy to clean.
Since this chair is made from durable poly material, it never splinters and is resistant to salt water. With lifeguards and beaches in mind, this chair was made to withstand harsh ocean elements. Lifeguard Master has had a chair in the ocean water for 20 years and the chair is still sturdy and durable. Even if the chair goes in the water, it will float so it is easier to reach and get back onto dry land.
Weighing a total of 46 pounds, this chair measures 24 inches long, 24 inches wide, and 49 inches high. All of the major parts come pre-assembled with only minor assembly required.
The second chair now available from Lifeguard Master at a discounted price is the Lifeguard Folding Chair. This chair is the perfect portable lifeguard chairs for might need to move around for different shifts. This chair comes with a variety of unique features to make the chair useful, comfortable, and stylish.
A heat-cured powder coat finish and a weather-resistant Sunbrella brand fabric allow the chair to stay outside without being damaged. Anti-microbial WoodTec arms and a reinforced step add safety and security for the lifeguard in all kinds of weather. Weighing just 14 pounds, this Lifeguard Folding Chair has a sturdy construction to last for years. The tough poly material surface is easy to clean and makes for a comfortable and new-looking chair.
The easy to fold chair allows for portability or storage. The fabric's backing is embroidered with the word "LIFEGUARD" in white lettering and is available in different fabric colors including red, royal blue or navy. Measuring 24.5 inches in width and 44 inches in height, the seat sits at 27.75 inches high.
Lifeguard Master also offers a variety of other chair heights for different size beaches or pools. Ranging from 30-inch high lifeguard chairs to the tall 66-inch high lifeguard chairs, Lifeguard Master has a chair for any size of pool or beach. Different heights of lifeguard chairs allow lifeguards to watch different size groups of the public that are swimming in a pool, beach or water park. A higher chair allows for a high view and therefore more people to watch over.
No matter what size area a lifeguard has to watch over, Lifeguard Master has affordable chairs that are made from the highest quality of materials and construction. By using high quality poly material, these lifeguard chairs can withstand both ocean and chlorine elements.
Lifeguard Master has been in the emergency and life saving industry for many years. Sammy, the owner and founder of Lifeguard Master has been a lifeguard himself for 7 years. He knows the importance have having all the equipment readily available for a first responder, and through the years Lifeguard Master has become a robust lifeguard supply and lifeguard store company, accommodating the anticipating needs of first responders around the country and around the world. Lifeguard Masters determination to excellence and rescue safety has quickly made it a leader in its industry. For more information, please give us a call, send us an e-mail or visit our website. Also to stay updated with the latest news in emergency supplies, please visit our forum where rescue professionals from around the country and world stay connect, and post the latest emergency news at LifeguardsOnline.com.
Sammy
Lifeguard Master
(714) 605-3090
http://www.LifeguardMaster.com