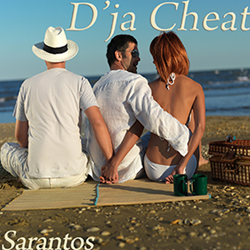 This song is about the jealousy and obssession that exists in all of us!
Park Ridge, IL (PRWEB) August 02, 2016
Sarantos Releases a New Hard Rock Metal Song "D'ja Cheat" Bringing To Light A Sensitive Subject.
Cheating is one of the most sensitive topics. Cheaters don't want to talk about it. Cheatees (is that a real word?) try to bury the painful memories and emotions. There is guilt. There are excuses, rationalizations and justifications. It's not easy. It's not fun for anyone. Is the grass always greener on the other side? Usually it's not. Sarantos tackles this sensitive subject matter with a new song - D'ja Cheat? Sarantos felt that hard rock or metal rock intrumentation would best capture the powerful anxiety, angst and anger of these lyrics. This is one of his favorite songs off this year's album "Pain Of The Past!"
"This song is about the jealousy and obssession that exists in all of us," says Sarantos. "Mistakes are made because humans make them and we are all human. No matter how secure we are, there has been a time in all of our lives when we were fearful our lover might be cheating on us. Maybe it was just sex or maybe it was emotional adultery? People tend to grow apart when they don't talk. The intimacy and connection in the beginning of a relationship naturally fades with time, kids and life. We can always rationlize that what we do is ok, or the other person surely deserves it but that's not even the point. It's up to each of us to decide what we want to be remembered for in this life. If you make a mistake, don't let it bury you. Accept the guilt and pain and start the healing. Don't hide from it. It won't completely ever go away but life has to be lived. While this song might not be a radio hit, it's absolutely one of my favorites on this album. Hey, they can't all be bright cheery songs, can they??"
33% of any music-related sales profits from this song are going straight to Alliance for Aging Research. They are the leading nonprofit organization dedicated to accelerating the pace of scientific discoveries and their application to vastly improve the universal human experience of aging and health. Advances in research help people live longer, happier, more productive lives and reduce health care costs over the long term and that access to the latest scientific information empowers people to take control of their health.
Sarantos' unique sound has been best described by industry insiders as an "emotionally powerful vocal style masterfully united with music that is a fusion of classic '80s rock blended with modern soft rock and pop music."
Since 2014, Sarantos has won over 30 awards with Akademia LA Music and Beat 100, while also being nominated for the International Music & Entertainment Awards and the Hollywood Songwriting Awards. Even without ever using a professional music studio, label, ad agency or radio promoters, two songs "Dreamer" & "What If I Never See You Again" have spent many months in the top 200 on the majors list in the US for radio airplay, according to the Digital Radio Tracker Top 200 charts. On the independent charts, Sarantos has hit the top 10 twice.
*Because Sarantos wants music shared throughout the world, fans can always find all songs, lyric sheets, videos and books on the website. Sarantos openly gives everyone the right to share song MP3s with anyone via email or any social media platforms.
Fans can sign up for the email list to get the inside scoop first and exclusive content available nowhere else.
Facebook:
https://www.facebook.com/Sarantosmelogia
iTunes & Apple Connect:
http://bit.ly/SarantosAppleStore
Spotify: