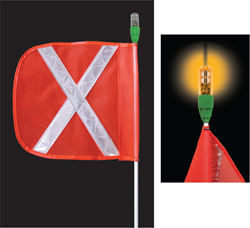 Whips are a critical part of a company's efforts to protect both lives and property.
Broomfield, CO (PRWEB) September 11, 2014
In 2013, Checkers Industrial Products announced the re-engineering of the company's Gorilla All-Purpose Warning Whips. A recently released white paper from the company details the improvements made, as well as why they opted to re-engineer their already top-rated whips, according to Ray Torres, President and CEO of Checkers.
"Whips are a critical part of a company's efforts to protect both lives and property," he notes. "As we approached a redesign, we evaluated feedback from safety managers as well as conducting our own analysis and testing. The primary concerns with previous whips included their failure to resist water, problems with grounding and improper or ineffective light spread."
According to the white paper, the creation of a single, continuous power and ground connection from the whip installation point to the whip light has addressed issues related with grounding. The inclusion of the Rocket II Super Bright Waterproof LED also now ensures a brighter light with a wider light spread.
Significant attention was paid to the failure of whips to resist water, one of the primary concerns reported by safety managers. Particularly in mines and other areas in which water is frequently present, corrosion, cracks and chips in seals increase the likelihood whips will fail. A new stainless steel hex base and o-ring seal have addressed those potential flaws.
"To test the capability of the improved Gorilla All-Purpose Waterproof Lighted Warning Whip, we subjected a single whip to more than 1300 hours of continual water spray," Torres says. "It worked—and has continued to work—without fail."
The complete white paper, titled "Improved Safety Features Offered by Gorilla All-Purpose Warning Whips in Comparison to Standard Whips" is available at checkersindustrial.com. Additional information, including a complete listing of the company's cable protection system options, can also be found on the company's website.
For more information on GORILLA® All Purpose Warning Whips, contact:
Steve Gottlieb, Director of Sales
sales(at)checkersindustrial(dot)com
800-438-9336
http://www.checkersindustrial.com