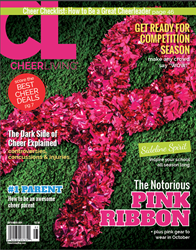 We've got something for everyone in this issue
San Diego, CA (PRWEB) September 23, 2014
CheerLiving® has released its fifth issue which will help prepare first and last year cheerleaders for the season to come. This issue covers all things from getting ready to cheer at the football games on Friday nights to what to consider before choosing a college.
"One more fierce topic we cover in this issue is Breast Cancer Awareness Month, to help our readers understand why the campaign's pink ribbon is such a big deal, and also why it is associated with some controversy, " said CheerLiving Editor-in-Chief Jessica Rzeszut.
Aside from Breast Cancer Awareness Month, another major focus on this issue is getting the most out of the cheerleading season. With tips for cheer parents and cheerleaders, this issue of CheerLiving provides valuable information on competition preparation, being the best teammate, and helpful fundraising tips.
"We've got something for everyone in this issue and are so excited to share tips and advice from our staff, and from a variety of contributors, with the cheerleading world" said CheerLiving Managing Editor Emily Holland.
The digital edition is available on the CheerLiving website as a free, instant download with subscription. Subscribers have access to all current and past digital issues of CheerLiving. The digital issue has several interactive features, including shop-friendly icons for the many featured cheer products. Clickable icons appear next to featured products and advertisements so readers can easily click to shop what they see. The digital issue also includes exclusives and extras, like additional photographs and videos.
The print edition is distributed through our sponsors, and is not available for subscription at this time.
To learn more about CheerLiving or to subscribe to the digital version, visit their website.
ABOUT CHASSÉ:
Chassé® is a leader and innovator in the world of cheerleading apparel and accessories, providing affordable and high-performance in-stock cheerleading apparel to cheerleaders of all ages.
ABOUT CHEERLIVING MAGAZINE:
CheerLiving Magazine, a division of Cheerleading Blog and sponsored by cheerleading company Chassé, is a source of cheerleading news, tips, and advice for cheerleaders, coaches, parents, industry leaders, and the cheerleading community.