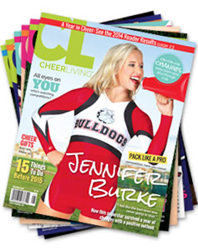 Being able to click with such a large group of girls so fast is something only cheerleading could have provided me with
San Diego, CA (PRWEB) December 03, 2014
CheerLiving® has released its sixth issue, a digital-only winter and holiday edition, featuring Cheer Channel's Superstars of All-Stars member Jennifer Burke on the cover. The issue features topics including competition preparation, DIY gifts, and ways to give back during the holidays. The new issue, as well as all previous issues, is available for free digital subscription and instant download on the CheerLiving website.
"Cheerleaders spread cheer all year, but it is time to do a little extra. We know you have big hearts, and we've put together some tips to help you use them," said Emily Holland, CheerLiving Managing Editor.
Issue six also brings the story of Jennifer Burke, a cheerleader who not only moved to an entirely different state, but also went from an all-star cheer team to a high school cheer team. Her advice and perseverance are inspiring and shine a positive light on the cheerleading community.
"Being able to click with such a large group of girls so fast is something only cheerleading could have provided me with," Jennifer Burke stated in her interview.
The digital issue features several interactive features, including a subscriber account, which allows subscribers to easily access any current or past issue, and shop-friendly icons for the many featured cheer products. Clickable icons will appear next to featured products and advertisements so readers can easily click to shop what they see.
To learn more about CheerLiving or to subscribe to the digital version, visit their website.
ABOUT CHASSÉ:
Chassé is a leader and innovator in the world of cheerleading, committed to providing affordable and high-performance apparel and accessories to cheerleaders of all ages.
ABOUT CHEERLIVING MAGAZINE:
CheerLiving Magazine, a division of Cheerleading Blog and sponsored by cheerleading company Chassé, is a source of cheerleading news, tips, and advice for cheerleaders, coaches, parents, industry leaders, and the cheerleading community.
ABOUT CHEERLEADING BLOG:
Cheerleading Blog is the official blog supported by industry leaders Omni Cheer®, Campus Teamwear®, Chassé®, Fun"d"2Raise®, Warmups.com and Glitterbug® Cosmetics.