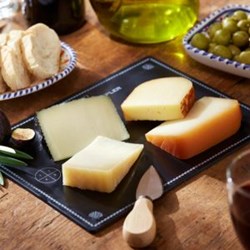 Perfect for a wine and cheese tasting!
Williamsburg, VA (PRWEB) October 09, 2013
Discover the Peregrino Spanish Cheese Tasting Sampler and take a flavorful tour of Spain through an assortment of quintessential Spanish cheeses. This grouping of four of Spain's finest and most flavorful cheeses arrives atop a black sampler board, making a beautiful hostess gift or a ready-to-serve party appetizer. Sip your favorite Spanish wine and indulge in a tasting flight that guides you through various regions of Spain.
The Harris Family of La Tienda hand-selected these four cheeses to offer a sampling of classic Spanish flavors, from buttery Mahón to smoky Idiazábal. Each cheese is cut in Madrid and then vacuum-sealed onto an attractive black plastic slate that doubles as a serving piece. The cheese board contains in-depth descriptions of each cheese to guide your tasting.
The Peregrino brand from La Tienda delivers high quality Spanish favorites that are personally discovered and selected during excursions in Spain. Peregrino offerings guarantee the La Tienda seal of approval, as well as an affordable price for high quality Spanish delicacies.
Cheeses included in this sampler:
Mahón - A traditional aged cow's milk cheese from the island of Menorca, this semi-hard cheese is slightly sharp with hints of butter and salt. It is versatile enough to serve as a tapa with olives; melted on toast; or on its own served with red wine or frosty beer. Slice and sprinkle with olive oil, black pepper and tarragon to experience it in its most traditional form.
Manchego - Spain's famous sheep's milk cheese, with a complex nutty taste and pleasant sharpness. This creamy, full-flavored, firm cheese pairs well with cured Ibérico or Serrano ham. Serve slices at room temperature with a glass of wine to savor the complex flavor, or drizzle with honey and pair with fruit for an indulgent dessert.
Ibérico - Similar to Manchego, but more mild and made of three milks, Ibérico cheese is beautifully balanced with a smoothness matching a pleasantly acidic finish. It is made using at least 50% cow's milk, lending a smoothness that adds nuance to the bright, tangy flavors of the other milks. Medium cured, with a firm bite, enjoy this favorite sliced in wedges and paired with fruit or a slice of membrillo quince preserve.
Idiazábal - Crafted in the heart of the Basque Country, this aged sheep's milk cheese is hardwood smoked, providing a deep but subtle flavor. The smoke gently permeates its exterior and as the cheese ages, the flavor becomes sharper. Pair with fresh fruits, ham, salchichón and crusty bread and serve with a hearty red wine.
La Tienda recommends serving these fine Spanish cheeses at room temperature to bring out their full flavor. The Peregrino Spanish Cheese Sampler may be ordered online from La Tienda, along with an assortment of over 900 authentic artisanal foods, wines and gifts from Spain.
Founded in 1996 by the Harris family, La Tienda is the leading online retailer of Spanish gourmet food, offering over 900 authentic products. Family-owned and managed, the business is dedicated to working with artisan and small family businesses in Spain.
La Tienda is headquartered in Williamsburg, Virginia, with its Spanish operation based outside of San Sebastian, Spain. Warehouses in Virginia and Alicante, Spain, ship throughout the United States, Puerto Rico, and Canada. La Tienda shipped to over 100,000 customers in 2012, including restaurants and renowned chefs. Its first retail store opened in Williamsburg, VA in November of 2009.
In 2011, La Tienda received the Outstanding Workplace Education Partnership Award from the Virginia Association for Adult and Continuing Education (VAACE). In spring of 2012, La Tienda was honored with the national award for Outstanding Workplace of the Year from the Commission on Adult Basic Education (COABE).
In October of 2012, La Tienda co-founder Don Harris was awarded Spain's Official Cross of the Order of Civil Merit by Ramón Gil-Casares, Ambassador of Spain to the United States, in recognition of Harris' extraordinary services promoting the people, culture and foods of Spain in the United States.