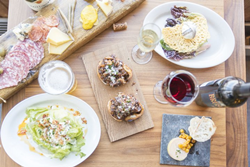 Over the years, Sunday River has continued to focus on providing unique experiences and dining options around the resort. The Chef Summit is a great way to explore high-end culinary creations while enjoying the beauty of the Mahoosuc Mountains.
NEWRY, Maine (PRWEB) January 22, 2019
The fourth annual Chef Summit arrives at Sunday River on February 2, bringing a night of culinary experience to Maine's western mountains.
The three-hour event combines food and beverages from New England's top chefs for a culinary spectacular. Hosted in partnership with O'Maine Studios, Chef Summit will take place at the scenic Jordan Hotel at Sunday River from 6:00 P.M. until 9:00 P.M. Tickets are available for $75 and include two drink tickets in addition to food tastings throughout the evening.
The event will feature delicacies from the following chefs:
Harding Lee Smith, Owner & Chef (The Rooms, Portland, ME and Newry, ME)
Mike Wiley, Co-Owner & Chef (Eventide, Hugo's and Honey Paw, Portland, ME)
Ali Waks Adams, Chef (The Brunswick Inn, Brunswick, ME)
Kerry Altiero, Owner & Chef (Café Miranda, Rockland, ME)
Matt Ginn, Chef (EVO, Portland, ME)
Justin Walker, Owner & Chef (Walkers Maine, Cape Neddick, ME)
Josh Berry, Chef ( UNION at The Press Hotel, Portland, ME)
Romann Dumorne, Chef ( Northern Union, Ogunquit, ME)
Sara Jenkins, Owner & Chef ( Nina June, Rockport, ME)
Jonathan Romano, Chef (Nordic Aquafarms, Belfast, ME)
Jason Voye, Chef (Sea Dog, North Conway, NH)
Jess English, Chef (Sea Dog , South Portland, ME)
ProStart Student Chef Team - Maine
The Chef Summit was developed in partnership with O'Maine Studios in 2015 as an initiative to continue sale demand and workforce development in Portland's culinary community. As a part of the ongoing Taste Maine's Future Project, Chef Summit brings culinary chefs and foodies together to continue Portland Culinary evolution.
For more information on conditions, visit sundayriver.com/mountain-report. Media inquiries should contact Karolyn Castaldo at karolyn.castaldo@sundayriver.com or 207-824-5218.
About Sunday River Resort: A four-season destination, Sunday River Resort is home to eight interconnected mountain peaks of world-class skiing and snowboarding. The resort includes 135 trails and 6 terrain parks on 870 skiable acres. Sunday River is a member of the Boyne Resorts family of resorts and attractions and is located in Newry, Maine, amidst the scenic Mahoosuc Range.