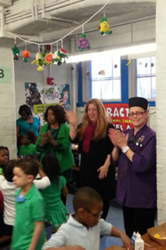 Fruits and vegetables are "the fuel that our bodies need to run properly".
Islandia, NY (PRWEB) March 20, 2014
The Elementary Guest Chef Kim Reynolds visited Boston Public Schools' Nathan Hale Elementary School on Friday March 14th, 2014 to promote healthy eating habits in school children. Developed by Whitsons School Nutrition, the Elementary Guest Chef is a unique nutrition education program that introduces young children to new and exciting healthy foods.
Chef Kim Reynolds conducts food tastings of items prepared with healthy ingredients such as fruits and vegetables, but with an inviting, kid-friendly twist. At Nathan Hale Elementary, Chef Kim prepared a "Mean Green" Tropical Strawberry Banana Smoothie, which highlighted spinach, the vegetable of the month. During this event, the children were not only encouraged to explore the delicious and nutritious smoothies, but also taught how fruits and vegetables are "the fuel that our bodies need to run properly", making it easier for them to relate the concept of nutrition to their everyday life.
Ms. Edith Murnane, Director of Food Initiatives at the City of Boston, attended the successful event. Chef Kim was able to engage such a large number of elementary age children at lunch time, in such a challenging setting where young attention spans are particularly short. Despite that challenge, she enthusiastically managed to deliver her message and convert so many veggie-doubters into veggie-likers.
Chef Kim's visits have proven to be wonderful educational events at the schools. Students, as well as teachers, look forward to her visits since Chef Kim not only talks about nutrition, but also makes it fun to eat fruits and vegetables!
# # #
Whitsons Culinary Group provides a wide range of highly customized dining services to public schools, corporations and institutions, with a strong focus on nutritious, high quality menus made from fresh, wholesome ingredients. Whitsons has a long and proud history of excellence and growth since 1979 and currently ranks the 18th largest dining company in the United States (Food Management magazine, September 2013). Whitsons' scope of expertise and services extends to: emergency dining, residential and healthcare dining, prepared meals, and school dining and services.