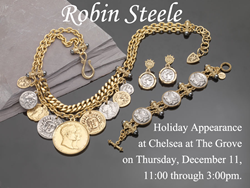 ...see the woman behind the designs of these chic and modern yet very vintage collections
(PRWEB) December 04, 2014
Chelsea Gifts is proud to announce the in-store appearance of the vintage jewelry designer, Robin Steele, on December 11, 2014. Her visit to The Grove at Shrewsbury, located at 635 Broad St. Shrewsbury, NJ, will coincide with the showcasing of the Robin Steele 2014 Fall/Holiday Collection featuring vintage and handmade jewelry. Along with new and one-of-a-kind pieces, this event will feature special gifts and holiday pricing exclusively for Chelsea customers plus a chance to meet and chat with mastermind and designer Robin Steele.
This is Robin Steele's second visit to Chelsea Gifts whose appearance at the boutique last year "drew a large audience and created a loyal fan base of Robin Steele jewelry," according to Chelsea Gift's owner Edward Cain. He adds, "This year customers will get to see the woman behind the designs of the chic and modern yet very vintage collections they have been admiring all year."
Every Robin Steele jewelry design is meticulously hand crafted in New York using rare vintage European intaglio, antique glass cabochons, and European matt crystal cameos to create timeless pieces as unique as the women who own them. Steele points out, "My designs are feminine yet strong, like the women of today who wear my creations. I want the individuality of the wearer to come through that is the true fashion statement."
Inspirations for her unique designs are often drawn from architecture, ornamentation, and mythology especially when designing the settings for the stones. This can be seen in her visualization of Victorian London. Her newest collection includes vintage bracelets in which she utilizes hematite, amethysts, and jet glass head cameos. These features can also be found in both the drop and chandelier European earrings in this set whose flowing lines evoke a sense of timelessness and prestige.
Select pieces from the Robin Steele Fall/Holiday Collection showcase will be available for purchase at Chelsea Gifts. This event comes just in time for picking up gifts for the holidays as Chelsea will have 10 percent off the entire store and the chance to win a beautiful Bohemian Bracelet Set in Yellow Jade, a $360 value, with a $100 or more purchase.
Chelsea is proud to sell Robin Steele Jewelry whose designs represent a union of strength and intelligence. To find these unique and personal pieces, shop Chelsea Gifts Online. Here, you can browse through all the gorgeous vintage jewelry from this designer and qualify for free shipping when you order $150 or more.
To learn more about Chelsea Gifts, Robin Steele exclusives, or this event, visit the boutique's website, https://www.chelseagiftsonline.com/, or call 732-693-0001 and don't forget to check out our Facebook Event Page and let us know you're coming.
About Chelsea Gifts:
A centerpiece store in Shrewsbury, New Jersey, Chelsea Gifts is a one-stop destination for top-of-the-line designer gifts, jewelry and tabletop items. Chelsea is an authorized dealer of respected brands, including Michael Aram, MacKenzie-Childs, L'objet, Juliska, Ralph Lauren Home, Alexis Bittar, Ted Baker London, Ricci Argentieri, The GG Collection, William Yeoward, and Kate Spade. Visit https://www.chelseagiftsonline.com/ or call 732-693-0001 to learn more about the boutique.