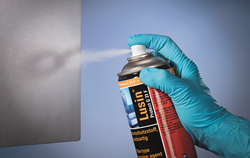 HOWELL, Mich. (PRWEB) October 19, 2016
Chem-Trend, a global leader in the development and production of high-performance purging compounds, release agents and other ancillary molding products, today announced the addition of Lusin® Protect G 31 F to its broad lineup of high-performance mold maintenance products for the thermoplastics processing industry. Lusin® Protect G 31 F is an anti- corrosion protectant developed specifically for use in the packaging industry and is applicable for food grade applications where incidental food contact is possible.
The new product is a dry film, which provides significant benefit over typical oil-based rust inhibitors. The dry film does not creep between mold plates, slides and core adjustments and can be easily removed from the mold cavity by the simple process of part molding, allowing for time and labor savings. Additionally, unlike typical oil-based rust inhibitors, the new product does not produce "oil marks" on transparent and optical parts.
Lusin® Protect G 31 F is NSF registered and conforms to H1 category code and therefore complies with FDA 21 CFR §178.357. The newly developed anti-corrosion protectant, which works in an innovative way to prevent rust on metal parts over both the short- and long-term, can also be used as a lubricating agent, providing additional benefits to the end user.
For more information on Chem-Trend's Lusin® mold maintenance products or other Lusin® solutions for thermoplastics processing operations, ChemTrend.com.
###
About Chem-Trend
Founded in 1960, Chem-Trend is a global organization focused on delivering value-adding solutions to improve quality, reduce costs and boost the productivity of molding and casting operations. Chem-Trend offers a globally integrated network of experienced, knowledgeable and insightful production and technical experts in all major manufacturing regions around the world. Chem-Trend serves global manufacturers through offices in North America, South America, Asia and Europe. As a member of the Freudenberg Group, Chem-Trend adheres to the group's "Guiding Principles," which include commitments to providing value for customers, innovation, leadership, encouraging the well-being and development of our people, corporate and personal responsibility, and a long-term orientation. Chem-Trend's company culture, which is intertwined with the "Guiding Principles," drives the organization to deliver exceptional value to its customers through its high standards for conduct. For more information, visit http://www.chemtrend.com .