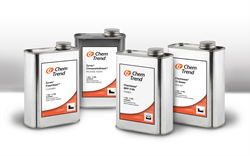 HOWELL, Mich. (PRWEB) March 06, 2017
Chem-Trend, a global leader in the development, manufacturing and marketing of high-performance release agents, purging compounds and other ancillary molding products, today announced the launch of a new labeling system designed to simplify selection for multiple product application processes worldwide. Currently available for the composites industry, the system includes labels and differentiating icons developed to unify the Chem-Trend brand globally, simplify the product identification process and improve customer production efficiency.
The labels and icons provide a visual representation of processes to ensure application messaging is not lost in translation as the products travel from country to country. Covering Chem-Trend's primary product portfolio for the composites industry, including cleaners, primers, sealers and release agents, the new labels help those on the manufacturing shop floor identify product types more quickly and easily.
"Chem-Trend operates in every major region of the world, so developing a product labeling system that can be understood as our products travel around the globe is pivotal in setting up our customers for success," said Amanda Pugh, business development director, Rubber and Composites, Chem-Trend. "This iconic innovation makes it easier to choose the right product for the right application, helping customers save time and boost production. Chem-Trend's quality simply speaks for itself, and now our products do too. These icons help to ensure the right products are used for every job in any language."
With more than 55 years of experience, Chem-Trend offers a wide range of Chemlease® and Zyvax® processing aids developed specifically for composites manufacturing. Available in solvent- and water-based formulations, Chem-Trend's portfolio covers a variety of industry applications, including:

Automotive
Aerospace
FRP
Construction
Marine
Recreational products
Sporting goods
Wind energy
For more information on Chem-Trend release agents, purging compounds and other ancillary molding products, visit our website.
###
About Chem-Trend
Founded in 1960, Chem-Trend is a global organization focused on delivering value-adding solutions to improve quality, reduce costs and boost the productivity of molding and casting operations. Chem-Trend offers a globally integrated network of experienced, knowledgeable and insightful production and technical experts in all major manufacturing regions around the world. Chem-Trend serves global manufacturers through offices in North America, South America, Asia and Europe. As a member of the Freudenberg Group, Chem-Trend adheres to the group's "Guiding Principles," which include commitments to providing value for customers, innovation, leadership, encouraging the well-being and development of our people, corporate and personal responsibility, and a long-term orientation. Chem-Trend's company culture, which is intertwined with the "Guiding Principles," drives the organization to deliver exceptional value to its customers through its high standards for conduct. For more information, visit http://www.chemtrend.com.