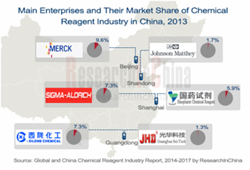 Dallas, TX (PRWEB) September 18, 2014
Chemical reagent, purified from industrial chemicals, serves chiefly scientific experiment and detection analysis, and finds massive application in electronic information, medicine, food, aerospace and military industry manufacturing.
In 2013, global chemical reagent market was worth about USD 13.6 billion, with market demand concentrated in United States, Europe and Japan. There are a large variety of chemical reagents, totaling above 250,000 around the world. American Sigma-Aldrich is the company that produces the most varieties of chemical reagents, up to approximate 230,000.
Global chemical reagent industry characterizes a fairly high concentration, and American Sigma-Aldrich and German Merck Group, as industry leaders, took up a combined 30% or so market share globally in 2013.
China chemical reagent industry has developed quickly, achieving a CAGR of 15.9% as concerns market size during 2007-2013, and making up 19.2% of global market size. Chemical reagent can be divided into general reagent and high-purity reagent, with the latter accounting for about 26% of total market size in China in 2013.
Purchase a copy of this report @ http://www.chinamarketresearchreports.com/contacts/purchase.php?name=114921 .
High-purity chemical reagent is mainly used in semiconductor industry, and is the product that enjoys the fastest growth rate and has the highest technical content and added value. With the rapid development of China's electronic information, biotechnology, national defense, military industry and other industries, the demand for high purity reagent will keep a roughly 15% growth rate over the next couple years.
In 2013, there were more than 400 chemical reagent producers with production licenses in China, most of which focused on low-end products, resulting in fierce competition in the low-end market; by contrast, the high-end market is dominated by transnational companies, such as German Merck Group and American Sigma-Aldrich, which held a combined 16.9% market share in China in 2013.
In recent years, concentration of China chemical reagent industry has been improving gradually, mainly reflected by rapid development of large chemical reagent companies. Moreover, China-made chemical reagents are advancing from the low-end to the middle and high-end, with some imported products having been substituted with domestic ones. Typical domestic companies include Xilong Chemical Co., Ltd. and Sinopharm Chemical Reagent Co., Ltd., together occupying 13.2% of the Chinese market in 2013.
Complete report is available at http://www.chinamarketresearchreports.com/114921.html .
Global and China Chemical Reagent Industry Report, 2014-2017 by ResearchInChina focuses on the following:

Size and competitive landscape of global chemical reagent market;
Size, import & export, competitive landscape, price of and forecast for development during 2014-2017 of the Chinese chemical reagent market;
Size of market segments (general reagent, reagent for PCB (a high-end variety in general reagent, separately listed in the report), high purity reagent) in China, and forecast for development of market segments during 2014-2017;
Operation, chemical reagent business, development of and forecast for 15 global and Chinese chemical reagent producers.?
Table of Contents
1. Overview of Chemical Reagent
1.1 Definition
1.2 Classification
1.3 Application
1.4 Industrial Chain
2. Chemical Reagent Market
2.1 Global
2.2 China
3. Chinese Chemical Reagent Market
3.1 General Chemical Reagent
3.2 Chemical Reagent for PCB
3.3 High-purity Chemical Reagent
4. Foreign Companies
4.1 Sigma-Aldrich
4.2 Merck Group
4.3 Johnson Matthey
4.4 Thermo Fisher
4.5 TCI
4.6 Wako
4.7 Danaher
5. Chinese Companies
5.1 Xilong Chemical Co., Ltd.
5.2 Guangdong Guanghua Sci-Tech Co., Ltd
5.3 Sinopharm Group Co., Ltd.
5.4 Suzhou Crystal Clear Chemical Co., Ltd
5.5 Jiangyin Chemical Reagent Factory
5.6 Jianghua Microelectronics Materials Co., Ltd.
5.7 Suzhou JIMCEL Electronic New Material Co. Ltd.
5.8 Anhui Fulltime Specialized Solvent & Reagent Co., Ltd
6. Summary and Forecast
6.1 Summary
6.2 Market Size Forecast
List of Charts
Main Categories of Chemical Reagent
Classification of Chemical Reagent by Purity
Application of Hydrogen Peroxide Products
Application of Hydrochloric Acid Products
Chemical Reagent Industrial Chain
Law of Development of Global Chemical Reagent Industry
Major Global Chemical Reagent Producers
Major Global Chemical Reagent Producers and Their Market Shares, 2013
Development Course of China Chemical Reagent Industry
Operating Revenue and Growth Rate of China Chemical Reagent and Auxiliary Manufacturing, 2007-2014
Total Profit and Growth Rate of China Chemical Reagent and Auxiliary Manufacturing, 2007-2014
Market Size of China Chemical Reagent Industry, 2007-2013
Browse more reports on Materials and Chemicals Industry @ http://www.chinamarketresearchreports.com/cat/materials-chemicals.html .
About Us:
ChinaMarketResearchReports.com (http://www.chinamarketresearchreports.com/ .) is an online database of market research reports offer in-depth analysis of over 5000 market segments. The library has syndicated reports by leading market research publishers across the globe and also offer customized market research reports for multiple industries.