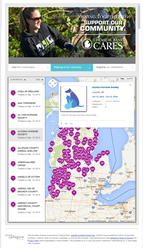 Most of all, we want to demonstrate that we take our part in each community very seriously."
MI (PRWEB) November 19, 2014
Most banks close for Columbus Day, but Chemical Bank in Michigan used the holiday to give back to its community, and share its impact using a new social media tool.
Last month, more than 1,900 Chemical Bank employees took the day off to volunteer and take part in over 200 local projects, ranging from cleaning kennels at animal shelters to leading financial literacy sessions for kids. This is the second year that the Michigan-based bank has run Chemical Bank Cares Day, but the first time that they have used social media to share the results and involve their online fanbase in the day. Through Chemical Bank Cares Day 2014, thousands of volunteer hours were donated to hundreds of local nonprofits and causes, and the bank used the new Social Impact Profile tool from cause marketing leader CafeGive Social to share their impact.
"We started using Social Media last year as a way for our employees to communicate and share what projects they were participating in, and to let the communities know what we were doing," said John Hatfield, Marketing Director at Chemical Bank. "Our goal for Cares Day is to make sure we are giving back to our communities and that our employees are having a good time. Most of all, we want to demonstrate that we take our part in each community very seriously."
This year, Chemical Bank took its commitment to giving back to the community a step further and partnered with CafeGive Social to create a dynamic, social hub of all of the projects and causes that their team supported throughout the day.
Now employees, fans, and Chemical Bank customers can see all of the bank's impact on one central page on their Facebook. The goal was to make it simple and fun for Chemical Bank's entire community to see and share the bank's giving and volunteer activities all in one place, and share it to their own social channels. Every time someone tweets or shares about the numerous Chemical Bank Cares Day events, they raise awareness for the bank as well as for the many causes and nonprofits their employees support.
As a community bank and the second-largest bank headquartered in Michigan, Chemical Bank has been committed to local leadership, stewardship, and community service for over 95 years. The bank has over 150 branches and thousands of employees - all of whom are active members in the communities in which they work and play. In order to choose which community projects and causes to support, the bank asked its workforce to suggest and champion projects. Chemical Bank worked with its employees to identify organizations that they were passionate about supporting, set up local partnerships, and create a list of community projects.
"Employees could register for a project of their choice using an online registration tool," said Hatfield. "The next step was to train the project leaders and make sure they were fully prepared for the day. And after the day we had to measure how we did in the communities that we served."
Using CafeGive Social's tools, the bank was able to share the collective good that all of its employees had across 237 projects, and measure their impact in terms of hours volunteered, causes supported, employees engaged, and organizations served.
"Responses have been great among everyone. Partners love that we are willing to take a day that we would normally be open to assist them on various projects. Employees love the fact that we are really acting on what we say is important to us, which is community immersion," added Hatfield.
Next year, the bank hopes to expand Chemical Bank Cares Day to include more projects that serve an even broader range of needs, and expand the bank's support in the community - both online and offline.
About CafeGive Social
CafeGive Social is the only company that combines social media marketing with meaningful, action-oriented cause marketing applications and solutions. Our products and services have helped companies, agencies and nonprofits of all sizes connect with customers to build brand, enhance reputation, raise awareness and effect social change. Headquartered in Portland, Oregon, CafeGive Social is a Certified B Corporation, one of the first Benefit Companies in Oregon, and a privately held company. For more information, visit http://www.cafegive.com.
About Chemical Bank
Chemical Bank is the second largest bank headquartered in Michigan, with assets of $7.4 billion as of September 30, 2014. For over 95 years, Chemical Bank's hometown approach to banking has been focused on community banking, highlighted by local leadership and decision making, a devotion to community and personalized service. We have over 182 branches across Michigan's Lower Peninsula that are divided into 18 Community Banks, each of which has its own Community Board. Chemical Bank is committed to its community, its employees, and to future generations. For more information, visit http://www.chemicalbankmi.com