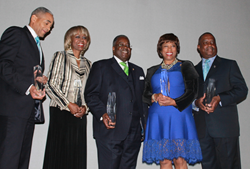 "Diversity is woven into how we run our business both in terms of whom we hire and with whom we partner," states Leon C. Richardson, President and CEO of the Chemico Group
Southfield, Mich. (PRWEB) September 22, 2015
Corp! magazine honored Tier 1 automotive supplier ChemicoMays with its Diversity and Multiculturalism Award during its 2015 Salute to Diversity Awards ceremony on September 10. The 26-year old African American-owned company provides chemical product and management services to customers in a range of industries including automotive, aerospace, heavy manufacturing, defense and biopharmaceuticals.
Annually, Corp! hosts its Salute to Diversity Awards to recognize businesses and business leaders who have displayed significant achievements in diversity within their organization or their community. Corp! is a Michigan-focused print and digital business publication providing news and features stories of interest to business owners, entrepreneurs and executives.
Just days after the Corp! recognition, the Michigan Congressional Black Caucus (CBC) Host Committee awarded ChemicoMays its Distinguished Corporate Citizen Award – Small/Medium Business during its Motown Live reception held annually in conjunction with the CBC Foundation's Legislative Conference in Washington, DC. This year's reception took place on September 18.
The CBC is an organization representing the black members of the United States Congress. The CBC Legislative Foundation's Annual Conference is the leading policy conference on issues that impact African Americans. The Michigan CBC Delegation awards the distinguished corporate citizen honor to companies based in the state that consistently deliver dependable products and high quality service while embracing charitable causes and exhibiting a commitment to environmental sustainability practices.
"Diversity is woven into how we run our business both in terms of whom we hire and with whom we partner," states Leon C. Richardson, President and CEO of the Chemico Group. By embracing diversity, Chemico has been able to leverage ideas and concepts across many different experiences undoubtedly contributing to a more innovative way of thinking that has helped to fuel our growth."
Chemico has long been recognized for its commitment to diversity. One example of this commitment is the $20,000 scholarship Richardson created with the National Association of Black Suppliers to address the dearth of African Americans among the company's chemist and chemical engineer ranks.
"At Chemico, we believe that in supporting the greater good, we all benefit," Richardson says. "The numerous causes we support all embrace diversity whether they be charitable or philanthropic organizations, institutions of education, or mentoring and advocacy groups."
The Corp! honor comes on the heels of Chemico's recognition as a 2015 General Motors "Supplier of the Year" for the sixth year running. Within the past year, the company has also been recognized by Fiat Chrysler Automobiles (FCA) as a supplier of the year, and received the prestigious Supplier of the Year Award for its category from the National Minority Supplier Development Council (NMSDC).
About ChemicoMays: ChemicoMays specializes in providing an integrated solution for the chemical lifecycle – from sourcing and procurement, to lean hands-on management, through environmentally conscious disposal. Founded in 1989, the organization has continued to experience positive growth year over year since its inception. ChemicoMays serves customers across a variety of industries including automotive, aerospace, biotech and pharmaceuticals. ChemicoMays is a part of the Chemico Group, which operates more than 50 sites throughout the U.S., Canada and Mexico. Chemico customers include General Motors, Fiat Chrysler Automobiles, Ford, Toyota, Amgen, Delphi, Honeywell CR Bard and Maxion Wheels Mexico. For more information, visit http://www.chemicomays.com.