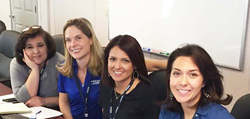 Joining Pink Petro will enable the company and our employees to tap into a vast network of like-minded companies and individuals who share Cheniere's commitment to diversity and inclusion. - Hilary Ware, Chief Human Resources Officer
HOUSTON, TEXAS (PRWEB) July 05, 2017
Houston-based Cheniere Energy, Inc. (NYSE MKT: LNG) announced today that it has joined Pink Petro, the global community aimed at ending the gender gap in energy, in a partnership that extends membership benefits to employees and provides events to foster professional development. Cheniere Energy, Inc., is a global energy company primarily engaged in LNG-related businesses. Cheniere has received broad recognition for being the first company to export LNG from the lower 48 states in more than 50 years. The company has nearly 1,000 employees with offices in Houston, Corpus Christi, Louisiana, Washington, D.C, London, Singapore, and Santiago, Chile.
"A diverse workforce is key to maintaining a solid market position and remaining competitive," said Hilary Ware, Chief Human Resources Officer, Cheniere Energy. "At Cheniere, we are always exploring ways to enhance our existing talent management and professional development networks. Joining Pink Petro will enable the company and our employees to tap into a vast network of like-minded companies and individuals who share Cheniere's commitment to diversity and inclusion."
Cheniere recently launched its women's employee resource group, WILS (Women Inspiring and Leading Success), aimed at enabling and empowering careers for women by providing development and leadership skills and creating a culture that promotes inclusion and diversity. While the group is geared towards the professional development of women, all Cheniere employees are encouraged to participate.
Collaborative efforts with Pink Petro will include participating in formal and informal events, utilizing the Pink Petro online community, and serving on the global energy community board, an industry inclusion think-tank that collaborates with external organizations and initiatives.
"We are very pleased to have Cheniere Energy join Pink Petro, as a first mover LNG company," said Katie Mehnert, Pink Petro Founder and CEO. "Their commitment to building a diverse workforce and talent pipeline make them a perfect fit. We welcome them to our community and look forward to working together to change the energy conversation."
About Pink Petro
Pink Petro is the leading global community and social enterprise aimed at ending the gender gap in energy. Using social technology, its mission is to elevate and connect individuals, companies, and industry to create a more diverse and inclusive workforce and supply chain. The community has a diverse audience of women and men in 120 countries in nearly 500 companies across energy in oil and natural gas, LNG, renewables, and nuclear.
About Cheniere
Cheniere Energy, Inc., a Houston-based energy company primarily engaged in LNG-related businesses, owns and operates the Sabine Pass LNG terminal in Louisiana. Directly and through its subsidiary, Cheniere Energy Partners, L.P., Cheniere is developing, constructing, and operating liquefaction projects near Corpus Christi, Texas and at the Sabine Pass LNG terminal, respectively.