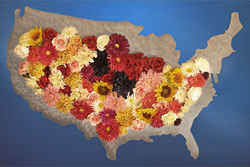 "You can't use up creativity. The more you use, the more you have". ~ Maya Angelou
West Palm Beach, FL (PRWEB) June 05, 2014
Patriotism, this was the main theme of a show, in which, Surreal Sculpture Artist, Cheri Mittermaier was invited to participate in South America. All she could think of was sculptures of globes and Mittermaier could not imagine executing anything that would depict this. Cheri wanted to do something people would not expect. She had seen a wall relief which was a carpet of silk flowers at Art Basel. Unfortunately, the name of the artist escaped her. With that in mind, Mittermaier decided to create a sculpture about the USA's diversity of culture.
Subsequently, Cheri went on to start to build a sculpture of a map of the United States with flowers representing different ethnicities. Mittermaier obtained a map of the United States and a list of state flowers to proceed with the artwork. Being that she generally works in terra cotta, Cheri outlined the map in clay coils and started the painstakingly tedious task of constructing hundreds of flowers. They looked awful, not only that, it would have been quite costly to bronze and would have weighed a significant amount to hang on a wall.
A great suggestion came her way from a dear friend, that Mittermaier, cut the map of the United States out of aluminum and attach silk flowers to the piece. Being stubborn, she went to the bronze foundry with this idea in mind and they told her not to make a bronze out of these materials. It would cost too much, and it would look prettier in its natural form. So after several trips to the store for silk flowers, a coworker and Mittermaier glued hundreds of flowers to a aluminum cutout of the United States.
Shortly, after the creation of this artwork, Cheri discovered that customs, to and from the country of the exhibit, was somewhat suspect. She had to pull out of the show altogether. Fortunately, this mixed media wall relief has found a home in Lake Worth, FL at a beautiful gallery. "Petals" will be on display in the month of July, celebrating our great country's birthday.
Cheri Mittermaier was born in 1963 in Indiana, USA. She graduated from Purdue University with a Bachelor's degree in Psychology as well as a concentration in Fine Arts and Humanities. To learn more, please visit cherimittermaier.com