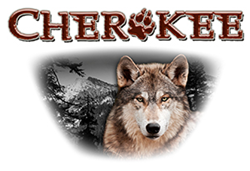 So happy to be representing Forest River's Cherokee line heading into the 2015 season, and judging by our record-breaking sales at the recent Toronto RV Show, are expecting this to be a top year for RV sales.
Whitby, Ontario (PRWEB) February 11, 2015
The Cherokee line by Forest River, Inc. is highly rated by its owner-base in both overall quality and value, and can be see one up close and personal in Whitby, Ontario. Campkin's RV Centre, best known for creative internet marketing and for maintaining one of Canada's largest online parts stores, has recently agreed to represent the Cherokee line-up for the coming season, including Cherokee travel trailers and fifth wheels, Cherokee Destination, Grey Wolf and Wolf Pup.
Owner surveys (RV Ratings, 2015) give the Cherokee brand four and a half out of five stars across the board, in categories like performance, safety, reliability, cost of maintenance, interior design, exterior appearance and comfort. When asked if they would recommend their Cherokees to other RVers, again the average owner response was four and a half out of five stars. Finally, when owners were asked for their opinions on the overall value of Cherokee trailers, in other words, what was the quality in relation to price? Surprise! It was four and a half out of five stars! Sounds like a ringing endorsement, particularly when those polled were owners, not industry professionals, not hired 'experts'.
Besides being some of the most consistent owner ratings among the major brands, Cherokee is a Top 5 Brand in Canada and sustained a 17.9% growth rate for the year ending November 17, 2014 (Statistical Surveys, 2015). This favoured brand boasts a broad range of models between its four sub-brands, giving customers an excellent selection of floor-plans, features, sizes and weights.
Cherokee travel trailers and fifth wheels are the linchpin of the brand, with masculine design flair and rugged outer shell they appeal to male sensibilities while simultaneously striking at the heart of any who enjoy the outdoors. The graphics package and colour scheme create the illusion of blending into their surroundings. Available as a travel trailer or fifth wheel, comfort and contentment are usually the first feelings to hit those who climb inside the new 2015 models. With available options such as recliners, large bath space and indirect LED lighting, the Cherokee will create those unforgettable camping experiences that are every new trailer owner's dream. There are twenty floor plans to choose from ranging in length from twenty-five feet to forty-one feet and the minimum weight, for those looking to keep their current tow vehicles, is 699 lbs. at the hitch and a Gross Vehicle Weight of 7699 lbs.
Cherokee Destination park models are designed for those extended stays, for campers that plan on leasing a semi-permanent camp site in a park somewhere. This type of unit is often referred to as a park trailer and with eight foot interior ceiling heights, makes owners feel very much at home. There are seven varied floor plans in this category and each model is about forty feet from front to back, give or take. There are bunk models for families, front kitchen and rear master suite plans for couples, and everything in between, including home-style living comforts, like fireplaces, free-standing table and chairs and kitchen islands. Also most striking, from the inside and out, are the floor-to-ceiling window banks along the slide-outs on some models, making natural lighting phenomenal.
The Grey Wolf line is a real outdoorsy dream trailer, and includes travel trailer and toy hauler plans. So, for those who want to bring all the toys in the garage, they'll fit in the new Grey Wolf. Toy Haulers have really caught on over the last eight years and, with miles of practicality, it's easy to understand why. They are easy to keep clean, boast lots of storage space and have many ways to secure heavy cargo in the convertible rear compartments. The Cherokee brand has twenty models, so when one factors in the additional twenty-three Cherokee Grey Wolf models it's fair to say that many competing brands can't touch this line for choice!
Cherokee Wolf Pup is the light weight sub-brand that completes this Forest River offering. The five available Wolf Pup floor plans include four light weight travel trailers and one toy hauler. Small, but mighty, these twenty foot models come with many of the luxury features their larger cousins come with, including a distinctive appeal to today's young families and first-time owners. With the Wolf Pup there's no extra expense of an additional tow vehicle either, as they can pulled with today's average minivan or SUV.
In conclusion, Campkin's RV Centre is very excited to be able to bring Ontario camping enthusiasts this exceptional line of highly-rated and feature-rich trailers.
For more information, please visit: http://www.campkins.com
About Campkin's RV Centre:
Always an early adopter, the Campkin's brand has a history of experimenting with internet marketing trends and advertising best practices in an effort to present an honest and fair profile for RV enthusiasts across Ontario. "Our policy is transparency in pricing, the presentation of rich media so the customer can make their own decisions without the need for a salesperson and, of course, great customer service after the sale," says Roland, the owner and President of Campkin's RV Centre.
Other Forest River brands showcased at the Campkin's location include Surveyor and R-Pod, Prime Time Manufacturing's Avenger, Lacrosse, Tracer, Crusader, Sanibel and Spartan lines, Coachmen's Clipper brand and the newest little trailers on the scene, Riverside RV's White Water Retro travel trailers.
Media Contact:
Brad Campkin, Marketing Director
brad(at)campkins(dot)com
1-888-743-9378