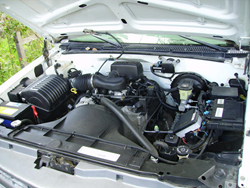 The V6 used condition truck motors we are now able to provide through our inventory will be delivered through selected local companies across the USA
Phoenix, AZ (PRWEB) August 25, 2015
Locating a replacement motor for Chevrolet Silverado or GMC Sierra pickup trucks produced in the United States between 1985 and 2009 will be easier for automobile parts buyers thanks to the Car Parts Locator company online. Used Chevy 1500 4.3L motors are now a part of the OEM components inventory at http://www.carpartslocator.com/chevy-1500-4-3-engine.
The cast iron blocks that can now be explored or purchased using the CPL portal are overhead valve editions. These 90-degree builds are offered in both the 262 CID and Vortec 4300 versions. Automotive mechanics or owners of pickup trucks seeking a previously owned condition block will now benefit directly from this expanded inventory.
"The V6 used condition truck motors we are now able to provide through our inventory will be delivered through selected local companies across the USA," said one source from the CarPartsLocator.com company.
The previously owned OEM motor blocks for Chevy and GMC trucks that exist at the CPL company are models that are sourced from top salvage yards in various states. The creation of new business partnerships has made the acquisition of the 4.3L inventory available possible this year, and these relationships are expected to continue through 2017.
"The used 1500 pickup truck engines a person has access to through our inventory will include a parts coverage plan of up to 24 months," said the source.
The Car Parts Locator web portal was first activated in the year 2013 and is now directly linked to hundreds of automotive components distributors nationwide. New companies join the CPL network daily while helping to make additional parts available for sale.
About CarPartsLocator.com
The CarPartsLocator.com company is one web resource to explore and compare prices for used condition vehicle components for American and foreign brands. The company has included more than 500 salvage yards, junkyards and other suppliers to its national distribution. The CarPartsLocator.com company is now listing all inventory featured on its website with an expanded warranty protection plan.