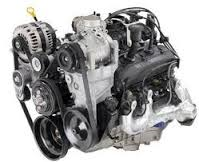 The used condition vehicle motors that we've added for GM and Isuzu vehicle brands have been validated for counts of mileage and condition
Seattle, WA (PRWEB) May 31, 2015
One of the final motor blocks built for the Chevrolet S10 vehicle in the U.S. was known as the L43 at the General Motors company. The UsedEnginesSale.com company is announcing the arrival of Chevy Vortec 2200 used engines to its I4 inventory that is now posted online at http://www.usedenginessale.com/chevy/vortec-2200-engine.
The 2200 series is the final build of the GM 122 base that was used in Chevrolet and Isuzu series vehicles. The OHV editions that are now available to purchase are rated at 120 horsepower and are the pushrod versions. Consumers and automotive mechanics will now have access to this inventory when viewing the UES website.
"The used condition vehicle motors that we've added for GM and Isuzu vehicle brands have been validated for counts of mileage and condition," said a UsedEnginesSale.com rep.
Because limited warranties can be one problem that a person buying used condition motor blocks can experience, a change in protection plans at the Used Engines Sale company will also apply to the 2200 versions now in stock. All orders now ship nationally with a better OEM protection policy to eliminate the potential of most parts failures.
"The used L43 blocks feature some parts that are now outdated and replacing these without a warranty policy in effect means consumers will pay more money out of pocket," the rep included.
The UsedEnginesSale.com company is now experimenting with two ways to produce pricing for its listed inventory. The web database that is available to search on the homepage and phone number at (989) 891-9212 are in place to make ordering motors easier.
About UsedEnginesSale.com
The UsedEnginesSale.com company supplies top condition vehicle motors at sale prices on the Internet. The company is now stocking more JDM and imported blocks for consumers this year. The UsedEnginesSale.com company supplies warranties and additional support for people who purchase from its web based inventory on the company website.