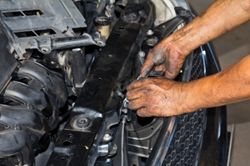 The V6 3100 series that is now featured inside our inventory that is sold nationally to consumers has joined the 3400 block added last month
San Jose, CA (PRWEB) April 03, 2015
The early 1990s motor blocks built by the GM company can still be found through secondary retailers selling used auto components on the web. The PreownedEngines.com company has acquired an inventory of Chevy 3100 engines that are in used condition for sale to consumers at http://preownedengines.com/chevy-3100-engine-used.
The 3.1-liter displacement car motors that are now supplied this year have been added to the V6 inventory of GM components for sale. The Chevrolet 3100 blocks are also the same motors that were used in Oldsmobile and Buick vehicles up to the early 2000s. A mechanic, parts dealer or consumer seeking a replacement block can now browse what is available in the POE inventory.
"The V6 3100 series that is now featured inside our inventory that is sold nationally to consumers has joined the 3400 block added last month," said one PreownedEngines.com source.
The demand for replacement 6-cylinder motors has made it possible for the PreownedEngines.com company to acquire additional automaker brands for distribution in 2015. Aside from the Chevrolet assemblies, builds for Dodge and Ford automobiles can be sorted, evaluated or purchased when shopping this year.
"The additional horsepower and fuel economy that is offered in a V6 compared to a V8 is one of the reasons the smaller blocks have remained in national demand," said the source.
The Preowned Engines company is scheduled to add more complete motor blocks that are 20 years or order into its consumer level inventory. Purchasers of auto engines can now call 1-866-320-1065 to inquire about inventory stock levels or current sales promotion for import or domestic brands for sale.
About PreownedEngines.com
The PreownedEngines.com company supplies automobile, truck, minivan or SUV motors at lower than MSRP price structures to U.S. buyers. The company features new brands of motors inside of its searchable warehouse on the web daily. The PreownedEngines.com company offers use of its web search tools to help consumers locate classic and newly built motors that are in used condition and ready for public sale.