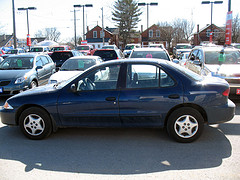 The 3.1L V6 has been used in the Cavalier, Beretta, Corsica and other best-selling brands from GM that are no longer in active production in the United States
San Francisco, CA (PRWEB) April 11, 2015
Older V6 motors are still in use in some vehicles built before the year 1999 in the United States. A new supply of inventory at the Powertrain Guys website is helping engine swappers to buy Chevy 3100 V6 engines in used condition for a discount price at http://powertrainguys.com/used-chevy-3100-engine.
The PTG second hand vehicle parts inventory that is now distributed nationally this year includes the 3100 series pre-2000 year motor blocks for sale. Current owners or auto body mechanics of Chevrolet vehicles are expected to benefit from the lowered priced V6 engine assemblies that are now listed for sale.
"The 3.1L V6 has been used in the Cavalier, Beretta, Corsica and other best-selling brands from GM that are no longer in active production in the United States," said one Powertrain Guys source.
The engines for sale that are now available to buy at a lowered retail price are not limited to the 3100 series. Additional V6 blocks such as the 2.8L, 3.4L and 3.0L 6-cylinder blocks are also available for a better sticker price for purchasers this year. The Powertrain Guys company is continuing its offer for two-year warranty coverage at the time of purchase.
"The range of discount V6 motors that we're now supplying for Chevy or other GM vehicles is top quality inventory that offers a complete replacement solution," the source included.
The Powertrain Guys company has also added compatible transmissions for 3100 powered motor vehicles in the General Motors automotive family for sale. Both automatic and manual edition gearboxes that are directly compatible with the 3.1L block can also be purchased this year on the web.
About PowertrainGuys.com
The PowertrainGuys.com company provides access to used inventory for motors, gearboxes and other vehicle components through its website online. The company has expanded its distribution system to include more import automotive components. The PowertrainGuys.com company has a full team of trained parts specialists that provide offline phone support and web support to consumers on a national level.