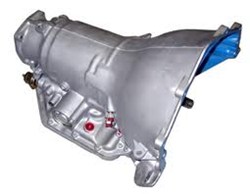 The TH350 and TH400 are now sold from our website.
Dallas, Texas (PRWEB) August 03, 2013
General Motors produced transmission units have gained notoriety due to intelligent design and longevity. The GotTransmissions.com company has made recent changes to its turbo inventory online and is now selling used condition Chevy 350 transmission inventory at http://www.gottransmissions.com/blog/used-transmissions-2/auto-transmission.
A special price is now attached with these Hydramatic units now listed online. The suggested retail list price by most distributors is considerably higher and typically what is found from most research online.
The lowered Got Transmissions prices is one effort to promote a quality gearbox with the standard price structure.
"The TH350 and TH400 are now sold from our website," said an IT coordinator for the GotTransmissions.com company. New innovations have been introduced on the website this year to make it simpler to research any transmission type.
The manual and automatic development put forth by General Motors is one contributing factor to the different technologies that are used. Consumers currently using the Chevrolet brand of transmissions have a choice between more than one style depending on the vehicle that is used.
"We've sold GM transmissions since our inception online," the coordinator said. Database programming has been a big part of the success achieved for the Got Transmissions company over the past decade selling online.
All transmission types that are stocked online by this company can be researched in price and stock status before purchase. This easy research method is setup to eliminate many of the problems that happen from manual processing using telephone systems for order lookup. Complete shipment details as well as data related to limited warranty coverages can be pulled from the database system now promoted for use online.
About GotTransmissions.com
The GotTransmissions.com company is a leading distributor of previously owned American and foreign transmission types online. This company currently discounts each of its transmission units below the suggested retail list Price set by automakers and distributors. Company specialists now provide full customer support by phone and through online contact. The GotTransmissions.com inventory now grows on a weekly basis as demand increases for specific units requested for replacement. The Chevrolet, Ford, Dodge, Jeep and other transmission types that are currently listed for online sale are shipped without freight costs in the U.S.