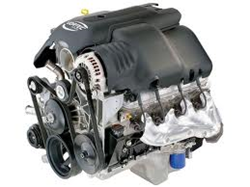 The 6.0 size is one of the largest motors used in gasoline type inside a Chevrolet series pickup truck.
Green Bay, WI (PRWEB) August 19, 2013
The Chevrolet Silverado is one of the top selling pickup trucks in the General Motors family. The engine sizes are constantly updated in this pickup truck brand and the Got Engines company is now selling one of the largest motors. This company has added the Chevy 6.0 engine in used condition inside of the inventory for sale at http://gotengines.com.
This Vortec 6000 series is a top build that is used inside the newer edition Silverado trucks and is an upgrade to the 5300. The Vortec platform is sometimes referred to as the GM equivalent to the Ford Triton series motors that helped to define the medium-duty truck industry in the late 1990s.
"The 6.0 size is one of the largest motors used in gasoline type inside a Chevrolet series pickup truck," a company rep for the Got Engines company said.
This powerful motor is now provided as previously owned to reduce the actual replacement cost that a buyer pays to upgrade an engine.
The Silverado and Silverado 2500HD are two examples of one of the longest reigning truck brands produced in North America. The GotEngines.com website has featured the 5300 and 5700 series motors in previous years and remains one of the largest sources to find a preowned edition in a genuine Chevy build.
"The Chevy and GMC truck series is now well represented with engine types inside our discounted inventory," the company rep added. Buyers unable to depend upon secondary sellers like junkyards and other resources are expected to receive immediate benefits due to the placement of the 6.0 Chevy motors online.
To make requests for pricing easier, consumers using the Got Engines company now benefit from the easy price tools that are available. A single click of the mouse is now the only requirement needed to obtain current company pricing for any in stock motor that is sold and distributed by this company.
About GotEngines.com
The GotEngines.com company provides useful automotive engines that are inserted into cars, pickup trucks and sport utility vehicles in United States and Canada. This company has hired industry experts to oversee all company operations for distribution and sales. The GotEngines.com website was first launched six years ago online and has grown into a national resource used by men and women in the consumer and trade industries. New quotation systems have been programmed and installed in 2013 to provide immediate price details to all engine buyers.