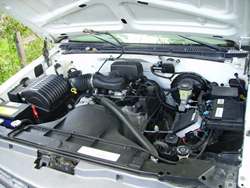 The 5.3-liter Vortec engines that we are now selling from our website fit the Avalanche and some other General Motors vehicles
Saginaw, MI (PRWEB) May 27, 2015
The final year of active production for the Avalanche SUV at the GM company was the year 2013 in the U.S. Because this vehicle is no longer produced, the PreownedEngines.com company is now retailing Chevy Avalanche 1500 5.3L V8 engines from its website to buyers at http://preownedengines.com/used-chevy-1500-avalanche-engine.
Connections with authorized GM parts suppliers has helped the POE company to construct a larger V8 inventory of motor blocks for sale this year. The 1500 series builds that are now shipping from the main company warehouse are offered in LM7 and LY5 RPO versions. These units have been tested for compatibility with the GMT900 chassis platform.
"The 5.3-liter Vortec engines that we are now selling from our website fit the Avalanche and some other General Motors vehicles," a Preowned Engines company expert said.
Consumers who are seeking an inventory of E85 compatible V8 blocks will not yet find these models in stock at the PreownedEngines.com website. Negotiations are now under way with alternative suppliers that can offer the alternative fuel blocks for the Avalanche and other SUV vehicles from Chevrolet.
"Testing has been completed with 4-speed and 6-speed transmissions to make sure that these stock models work with our Vortec 1500 series used motor blocks on sale," the expert included.
The Preowned Engines company is in the planning stages of a late Summer sale that will be announced in the coming months to the public. In order for consumers to access immediate sale pricing, a support tool has been installed on the company homepage as a way to present pricing without the need to call customer service.
About PreownedEngines.com
The PreownedEngines.com company sells its automobile components inventory on a national level through its own website and call support center. The company is now working with more than a thousand suppliers to distribute ordered motor blocks. The PreownedEngines.com company uses an inventory control system to keep track of inventory displayed to consumers who visit its warehouse portal on the Internet.