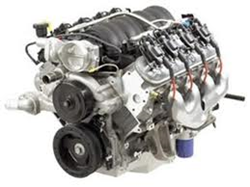 Chevrolet is one of the manufacturers of motors that appear in our used inventory, and we are slowly building our stock levels with older varieties
Lexington, KY (PRWEB) May 29, 2015
The Caprice sedan vehicle series is no longer being manufactured in the United States by General Motors although replacement vehicle components are still available for this brand. The Got Engines company is now announcing its addition of Chevy Caprice 5.7L engines to its used warehouse inventory at http://www.gotengines.com/blog/chevy-engines/chevy-caprice-57-engine.
The small-block 8-cylinder units that are available to buy this year are the 1991 to 2006 model years. Buyers who are now searching for LT1 or LO5 RPO codes will be able to find these V8 blocks within the GotEngines.com website inventory that is now revised online. The builds available have been acquired from dismantlers across the United States.
"Chevrolet is one of the manufacturers of motors that appear in our used inventory, and we are slowly building our stock levels with older varieties," said one Got Engines company sales specialist.
The 5.7 Caprice engine inventory that is available to buy is now eligible to receive the GM warranty extension announced earlier this month. For all buyers of replacement motors, a change to the term of each policy is now in place and web activation for each policy can now be completed at http://www.gotengines.com/warranty.html.
The GotEngines.com website is now promoting two sizes of Chevy Caprice engines among its V8 inventory. Apart from the 5.7L V8 now available, the classic 4.3L V6 is part of the preowned stock that is now available to ship to any destination in North America. Freight charges for all orders are now displayed at checkout.
About GotEngines.com
The GotEngines.com company is now retailing most of the motor builds from American auto companies and some foreign companies through its website on the Internet. The company has increased annual sales by taking on new suppliers over the past several years. The GotEngines.com company provides full service and support for its inventory through its coordinated call center.