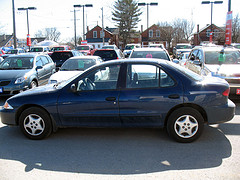 The compact car engines that are found inside of our inventory for Chevy vehicles are pulled from working autos that have been salvaged to help acquire better quality blocks
Chicago, IL (PRWEB) March 25, 2015
The 2010 termination of the Chevrolet Cobalt from the GM inventory has increased the risk of shortages for certain types of OEM auto parts consumers purchase. The Got Engines company is now discounting Chevy Cobalt 2.0 used engines inside of its I4 inventory of motors for sale at http://www.gotengines.com/blog/chevy-engines/20-cobalt-engine.
The blocks that are available to buy at a lowered price include units for coupe and sedan type Cobalt motor vehicles sold between 2005 and 2010. Since there are dual editions of the 2.0 motor, a person seeking a standard or turbo edition will be able to purchase using the Got Engines website or by calling the toll-free ordering line now available.
"The compact car engines that are found inside of our inventory for Chevy vehicles are pulled from working autos that have been salvaged to help acquire better quality blocks," said one GotEngines.com company rep.
The 2.0-liter Ecotec blocks that are discounted and instantly available to buy on the web are part of General Motors inventory increases established in 2015. Almost all Generation III and Generation IV motors that fit into Chevrolet vehicles can be found while using the automated search locator tool that is now present on all website pages at the Got Engines portal.
"Getting the most out of a used motor is possible because we also include a parts warranty plan with each block shipped in the USA," the rep included.
The Got Engines company is now providing order fulfillment through its selected partners seven days a week. Consumers can continue to order inventory by calling 1-800-320-1065 or by using the e-commerce checkout system now built into the tools on the company homepage.
About GotEngines.com
The GotEngines.com company provides preowned vehicle motors of all makes and models to consumers at low retail prices. The company uses distributors to expedite inventory of selected motor blocks nationwide. The GotEngines.com company continues to support sales of import and foreign inventory to offer consumers a trusted way to order hard to find European car motors on the web.