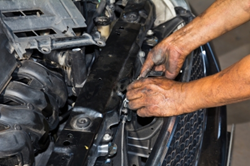 The 4-cylinder vehicle motor blocks inventory that we are now selling includes the latest Ecotec versions at a much better price this year
Chicago, IL (PRWEB) June 19, 2015
Crossover sport utility vehicles that are produced by General Motors for the North American market now include updated Ecotec vehicle motors. The Powertrain Guys company is now discounting its I4 Chevy Equinox engines that can be purchased from its website at http://powertrainguys.com/chevy-equinox-2-4l-engine.
The units that are in stock are two different RPO codes to provide the right match to a person who will buy a motor block this year. Both the LEA and LAF direct injection models are available to buy. These 2.4-liter I4 engines have been acquired through nationwide partnerships with vehicle dismantling companies.
"The 4-cylinder vehicle motor blocks inventory that we are now selling includes the latest Ecotec versions at a much better price this year," said one Powertrain Guys customer rep.
The Equinox is one of the SUV brands that is now supported for used components through the PTG website. The similar GMC Terrain also uses the 2.4L 4-cylinder motor, and consumers hoping to find an instant match in the current inventory will be able to buy an OEM unit. All of the used Ecotec engines have been tested with 6-speed transmission compatibility before sale.
"Our strong point is Ford and GM components, and we have just finished the closing of more deals with American suppliers to help provide a lower retail price," said the rep.
The Powertrain Guys company is expected to feature more low pricing on its FWD and AWD compatible motor blocks throughout 2015. The company call center can still be used to purchase products offline by calling the company toll-free number.
About PowertrainGuys.com
The PowertrainGuys.com company helps consumers to find low prices for powertrain components that are in used condition in the U.S. The company now stocks foreign and American brands of parts for sale daily. The PowertrainGuys.com company supports a long-term warranty program for each consumer who purchases the inventory that is marketed on its website.