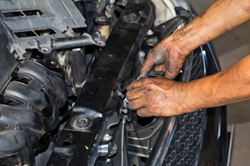 Vehicle owners or mechanics seeking ways to fix a vacuum or gasket leak due to a defective manifold will now be able to buy from our inventory online
Atlanta, GA (PRWEB) July 22, 2015
Air flow systems remain one of the important components for producing the horsepower required for V6 and V8 engines to function properly. Intake systems produced by General Motors can now be purchased at the CarPartsLocator.com company. Chevy intake manifolds in used condition have been acquired by the CPL buying team and now listed for sale at http://www.carpartslocator.com/used-chevy-intake-manifolds.
The units now being offered in the web inventory are Generation I, Generation II and Generation III manifolds for V8 and V6 engines. The small-block and big-block series builds that have been a part of the Chevrolet family since the mid 1970s represent the inventory that is now supplied. The Chevy 350 intake manifolds and similar units in stock are OEM editions with valid date stamps.
"Vehicle owners or mechanics seeking ways to fix a vacuum or gasket leak due to a defective manifold will now be able to buy from our inventory online," said a parts specialist at the CarPartsLocator.com website.
The used Chevy intake manifolds for sale that are currently available will now receive the full long-term warranty plans that were revised this month by the CPL company. Because new partners have been used to acquire the editions now in stock, the coverage plans will provide better protection for purchasers.
"Our preowned GM parts inventory is now protected with solid warranty plan that is already included in our listed prices," said the parts specialist.
Buyers with questions about shipping policies or SKU numbers in stock can now call the company service department at (989) 891-9212 offline. New support staff is available to answer questions by phone that not answered in the FAQ section of the CPL website.
About CarPartsLocator.com
The CarPartsLocator.com company has updated its website this year to feature more original components that are supplied by salvage companies and dismantlers nationally. The CarPartsLocator.com company is now one of the only sources to find parts for vehicles produced before the 1984 year. The company is now supporting longer term warranty policies.