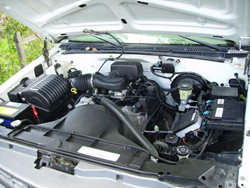 The Vortec 7400 motor blocks that we're supplying through our inventory for this year are V8 sizes and have been road tested
Dallas, TX (PRWEB) April 26, 2015
Engine development in the late 1990s helped General Motors to uncover better V8 technologies for use in bigger motor vehicles. The PreownedEngines.com company is now providing a two-year parts warranty with all Chevy L29 Vortec 454 engines in used condition for sale at http://preownedengines.com/chevy-l29-engine-used.
The second hand 7.4-liter V8 builds that are now in stock are shipped with the revised coverage for warranty plans in the U.S. The parts warranties have been written to supply about 90% of coverage for factory installed components. The 454 cubic inch displacement variants that are available to buy this year are compatible with the Silverado, Sierra, Suburban and Chevy Express.
"The Vortec 7400 motor blocks that we're supplying through our inventory for this year are V8 sizes and have been road tested," one PreownedEngines.com source added.
The 290 horsepower L29 builds that are in stock are part of a new Chevrolet expansion of V8 builds for sale at the POE company. Earlier this month, the L48 Corvette blocks were included for public sale to provide vintage builds at a lower price. Additional variations including the Vortec 8100 are scheduled for inclusion in the motor inventory for sale later this year.
"The big-block and small-block Chevy auto engines that are available to buy on our website are taken direct from salvage inventories across the U.S.," said the source.
The Preowned Engines company is now working towards adding additional General Motors used replacement engines for subsidiary brands. As the 2015 year progresses, more variants for Buick, Saturn and Oldsmobile will be added to the stock levels that are now promoted nationally.
About PreownedEngines.com
The PreownedEngines.com company provides automotive engine blocks that come complete with warranty coverage to U.S. car parts buyers on the Internet. The company lists distributor inventory that is searchable using its private components database. The PreownedEngines.com company works with warehouses across the country to supply in stock inventory for vintage or newer car motors.