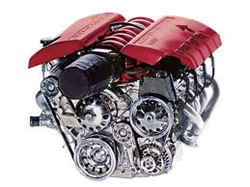 The LS series is part of the newer builds of Corvette engines that have been placed into several top GM brands.
Sacramento, California (PRWEB) September 08, 2013
The LS series of motors produced by General Motors is updated with new and improved horsepower every few years. The GotEngines.com company sells used GM engines online and is now discounting its used Chevy LS engines series online at http://www.gotengines.com/blog/chevy-engines/ls1-engine.
These motors are primarily used inside the Corvette series and can be purchased by car owners, project car builders or mechanics seeking a quality replacement.
The discounts now applied to the LS build of engines are in addition to other General Motors discounts that have been applied to the company inventory marketed online this year.
"The LS series is part of the newer builds of Corvette engines that have been placed into several top GM brands," a seller for the Got Engines company said. These motors are part of new introductions online of more modern engines for buyers.
The used General Motors inventory that is marketed by the Got Engines company for new prices is in addition to the warranty plans that have been structured for customers this year. Better terms of coverage are now supplying up to 24 months of OEM parts protection for each motor that is sold through the telephone ordering system or online options available.
"There are two ways that customers can order the LS engines now reduced in price or other engines that we sell for reduced prices in the U.S.," the seller confirmed.
The inclusion of the warranty policies and other discount information is expected to improve the General Motors sales that are processed by this company through the close of the 2013 year.
Improved partnerships made this year for distribution and acquisition have been put into action by company specialists to build the inventory of engines available through the 2014 year online.
About GotEngines.com
The GotEngines.com company sells used motors direct to consumers using its website and offline ordering systems. This company requires some of the highest quality preowned motors using top engine distributors in North America. The buying staff and selling staff working for this company provide the customer service consumers depend on when researching preowned motors online. The GotEngines.com website is a resourceful tool that is used for research and price discovery purposes. All warranty details can be located on this online resource by each engine buyer.