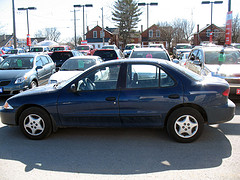 The 2.5-liter I4 Series motors that we are now providing at a reduced price will remain discounted until the close of 2015
San Jose, CA (PRWEB) August 14, 2015
The retired Iron Duke motor platform at the General Motors company is now one of the blocks supported at the Preowned Engines company. To go along with the recent inventory change to supplying Chevy Lumina 2.5L engines, the POE company is now offering a price drop for all in stock units as a special fall promotion. Details about inventory can be reviewed at http://preownedengines.com/used-chevy-lumina-2-5-engine.
The builds available with the lower price structure are original 151 cubic inch displacement blocks. GM produced these units between 1989 and 1994 in USA manufacturing plans. The editions feature Tech IV technology and include all originally installed OEM components. These blocks were acquired through partnerships with salvage companies and car dismantling agencies nationwide.
"The 2.5-liter I4 Series motors that we are now providing at a reduced price will remain discounted until the close of 2015," said one seller at the PreownedEngines.com company.
The price drop in place for the four-cylinder Iron Duke motors for sale will not affect the standard edition components warranty that was announced earlier in the year. People who purchase the range of Chevrolet builds in stock will receive continued support with the coverage plans at no extra cost.
"Our lower pricing will not affect the term of warranty coverage or the types of components that are protected in the policies," said the seller.
The Preowned Engines company continues to add new distribution outlets to its total fulfillment network in North America. Updates to the company warehouse inventory can now be explored daily using the access system that exists on every page of the company portal.
About PreownedEngines.com
The PreownedEngines.com company has built a massive inventory of vehicle motors for sale in used condition that includes Ford, Chevy, Dodge and other popular brands. The company is now listing a broad variety of inventory that includes lower mileage blocks. The PreownedEngines.com company has a complete customer service solutions center that has expanded phone support services in 2015.