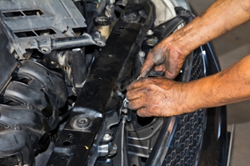 The reclaimed engines that are in stock for various GM vehicles through our inventory are certified through each supplier to help guarantee that quality that motor buyers receive
Atlanta, GA (PRWEB) December 17, 2014
The used motors industry remains strong in the United States each year partly due to the increases in demand from preowned car owners. The Revven company is now shipping its Chevy reclaimed engines for sale through a no cost freight program at http://revven.com.
This program will apply to any make or model that exists in the General Motors inventory that is displayed on the Revven website for motor buyers to access. The Chevrolet used motors that are listed for sale each come with a warranty policy that is supplied at no cost to every consumer who completes a purchase.
"The reclaimed engines that are in stock for various GM vehicles through our inventory are certified through each supplier to help guarantee that quality that motor buyers receive," said one Revven.com source.
The General Motors company inventory that can be reviewed through access to the Revven portal on the Internet has been expanded this month in time for the holiday season. The standard 3.1, 5.3, 5.7 and 6.2 engines that are popular for various Chevy vehicles are included in the free shipping program announced for consumers.
"A person who completes the purchase of a used engine by phone or through our virtual portal receives immediate shipment to any destination inside the United States," said the source.
The Revven.com company updated its website and inventory this year to reflect new partnerships that have been made in the automotive industry. More motor blocks from Ford, Dodge, Chrysler and Honda are now available for review using the instant inventory finder now accessible from the website front page.
About Revven
The Revven company launched its official website this year to provide a direct web resource to find pricing data for automobile engines. The company includes hundreds of different motors inside of its warehouse and this data is searchable online. The Revven company has a toll-free phone system as well as a direct quotation tool that is now in place to provide immediate consumer assistance when researching for used auto parts for sale.